WMH Auxiliary
Our hospital's Auxiliary, close to 200 members strong, has been in existence in some form even before the hospital was christened in 1920. A group of women began raising money for a community hospital and eventually saw it built. Their fundraising continues and takes on many exciting forms — from the annual Mistletoe Ball to operating two second hand shops, the Other Shop in Honesdale and the Other Shop 2 in Hawley. Other events during the year have included tribute concerts and antique and garage sales.  The Auxiliary also runs the hospital gift shop, The Gift Box.
CURRENT EVENTS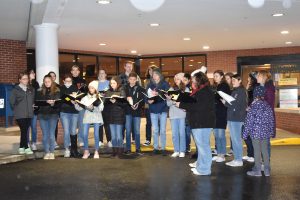 This year's Love Lites Lighting Ceremony was held on Monday, December 6, 2021 at 6:30 pm.
The Love Lites project originated in 1991 as an Auxiliary fund raising project
but also as a service to the community in providing a way to remember or
honor loved ones during the Christmas holiday season. By the symbolic
lighting of the lights on the trees outdoors at Wayne Memorial Hospital for
our community to see every day throughout the season, we are reminded of
the love and caring of family and friends.
The outdoor ceremony consists of a member of the clergy blessing the
Memory Book and features appropriate Christmas music performed by
members of St. Tikhon's choir and the Honesdale High School chorus. The
short ceremony is followed by light refreshments. The
Memory Book containing the names of the loved ones and the donors is
displayed in the hospital lobby from the day the trees are lit until the end of
the first week in January and are posted below.
The new trees in front of the hospital are lit this year.
Click on the link below to view the 2021 Love Lites "Memory Book"  which includes honorariums and memorials.
In Memory of — pages 1 – 48
In Honor of —  4 pages starting at page 49
Index- Alphabetized — starts at page 53
2021 LOVE LITES MEMORY BOOK with INDEX
Membership
Qualification for membership in the organization shall be in sympathy with the purposes of the organization and willingness to work towards its accomplishments. Prospective members are welcome at any meeting.
Here are the types of members in the Wayne Memorial Hospital Auxiliary
Active members shall pay  annual dues of $5 per year and participate in the active service programs of the Auxiliary.
Associate members shall pay annual dues of $15 per year but shall not be required to actively participate.
Honorary members have served as active members of the Auxiliary for 35 years and may have the option of not paying dues.
Dues
Dues are $5 a year.
---
Join
To become a member of the WMH Auxiliary, contact Membership Chair Joan Buehl at (570) 226-9750 or print out the following application form Auxiliary Membership Form and mail to:
Joan Buehl, 506 Covered Bridge Drive, Lakeville, PA 18438
Paces Newsletter
(formerly Keeping In Touch)