Community Outreach
Connecting Community & Healthcare
Wayne Memorial Hospital and Wayne Memorial Health System, along with our clinical affiliate Wayne Memorial Community Health Centers, are committed to promoting the health and welfare of the communities we serve.  This means that, in addition to diagnostic and treatment services, we offer prevention clinics, tips and seminars in conjunction with our physicians, nurses, rehabilitation therapists and other medical providers.
Some of our programs include:
• The In-School  Walking Program –Walking Program Waiver
• Together for Health School Program for 7th and 10th grades
• Community programs upon request
• Provider referral information
Our Community Health office at (570) 253-8990 can be contacted for more information, or click on the Events tab to find a list of events and opportunities to help you take control of your health.
Community Health Staff
Manager – Carol Kneier, MS, RD, LDN, CDCES                                                                                        
Assistant – Jean Tuttle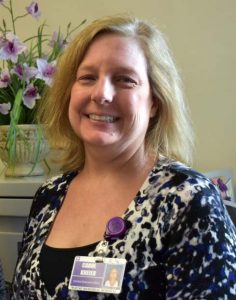 Carol Kneier assumed management of the Community Health Department in 2018, after Donna Decker, RN, retired. Donna founded the department and remained at this helm for almost 25 years. Kneier, a registered dietitian, is well known in the community for her diabetes education classes and her co-organization and participation in the annual Diabetes Taste-In to help patients with diabetes cope with the holidays. She also worked with Decker on the Well Weighs Program and with many other local programs through Communities That Care, the Wayne County Family Center and the Wayne County YMCA.  Originally from New York City, Carol has lived in Wayne County for decades, raised her three children here and acquired a Master of Science Degree in Nutrition from Marywood University in Scranton."I am honored to be chosen for this position," said Kneier, "and I'm really excited to take on this role. Donna Decker has always been a great role model, co-worker and friend and I plan to continue to build on her successes and work on improving the health of our community."
For more information on Donna Decker's retirement, click here https://www.wmh.org/news/wayne-memorials-decker-retiring-kneier-steps/
The Wayne Memorial Health Foundation at (570) 253-8272 also offers mini-grants to help launch health-related community initiatives, such as a swim program for at-risk schoolchildren. Visit the Foundation at www.wmh.org/health_foundation.