Wayne Memorial's Decker Retiring, Kneier Steps Up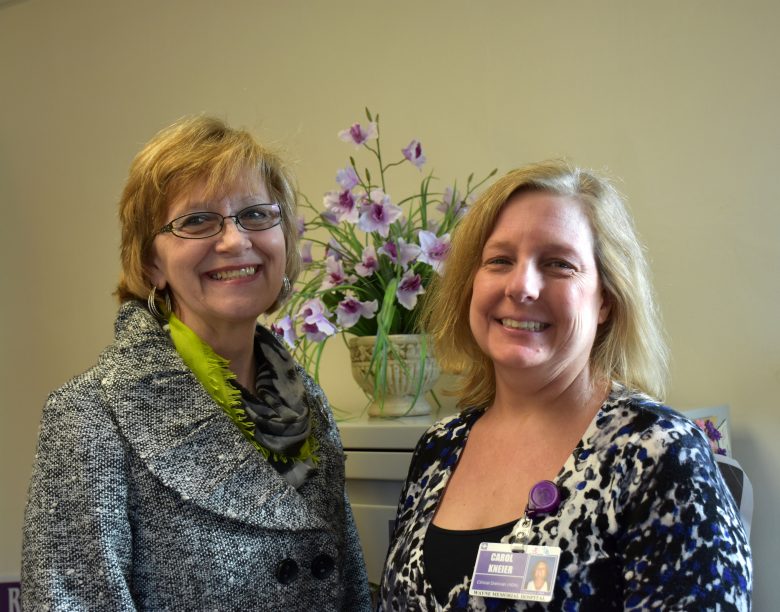 (Honesdale, January 8, 2018)… Wayne Memorial Hospital's long-time Community Health Manager Donna Decker, RN, is retiring after almost a quarter century of working tirelessly on community health projects. Her replacement is also a long-time Wayne Memorial employee: Carol Kneier, MS, RD, LDN, CDE, who has been a registered dietitian and Certified Diabetes Educator with the hospital since 1993.
"I am very pleased that Carol is assuming my position," said Decker, "she has many ties in the community and a true passion for helping people reach their maximum health potential."
Although Decker has worked at the hospital on and off since the late 1960s, the mother of five returned fulltime in 1994 to launch the Community Health Education Department at the hospital. One of her first significant projects was the Together for Health School Program, a three-part program that helps students choose healthy lifestyles. It won the Pennsylvania Office of Rural Health's "Innovative Rural Health Program of the Year" award in 1997. Donna herself was awarded the state's Community Rural Health Leader of the Year in 2007.
Over the years, Decker has either implemented or helped organize dozens of programs, including the Together for Health School Program, the In-School Winter Walking Program, the Blue Ribbon Well Weighs Program, The Prevention Initiative (the local branch of the State Health Improvement Plan or SHIP) and Rachel's Challenge/Challenge Accepted. She brought Functional Bowen Therapy to the area, heads up the hospital's Community Advisory Board, produces a weekly radio show called Healthworks on the Bold Gold Media network and works with many local groups on tick borne diseases, pain management and stroke education—just to name a few initiatives!
"Donna is leaving behind some very 'big shoes' to fill," said David Hoff, CEO of Wayne Memorial Hospital, "but we are confident Carol will step up to the job with success. She brings a different set of clinical skills but like Donna, Carol cares about the community—and her resume shows it."
Kneier is well known in the community for her diabetes education classes and her co-organization and participation in the annual Diabetes Taste-In to help patients with diabetes cope with the holidays. She also worked with Decker on the Well Weighs Program and with many other local programs through Communities That Care, the Wayne County Family Center and the Wayne County YMCA.  Originally from New York City, Carol has lived in Wayne County for decades, raised her three children here and acquired a Master of Science Degree in Nutrition from Marywood University in Scranton.
"I am honored to be chosen for this position," said Kneier, "and I'm really excited to take on this role. Donna Decker has always been a great role model, co-worker and friend and I plan to continue to build on her successes and work on improving the health of our community."
The hospital will have a reception for Donna Decker on Thursday, January 25th, at the hospital from 3:30pm to 5:30pm. Anyone who wishes to stop by is welcome, but please RSVP to champeau@wmh.org.
Photo: Wayne Memorial Hospital's Donna Decker, RN (left) is "handing over the torch" of Community Health Manager to Carol Kneier, MS, RD, LDN, CDE.