CAMP INFO
GENERAL CAMP INFO BELOW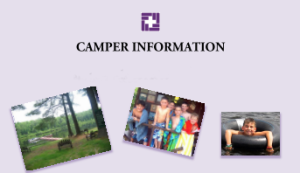 FOR CAMP FAMILIES, OWNERS, DIRECTORS
Northeast PA and Wayne Memorial welcome you to our beautiful area!
Whether you are here for a week or an entire season, we wish you good weather and good health.
If you need our services, we have helpful information to share to make the process as smooth as possible.
Camp Check In  –  EMERGENCY DEPARTMENT 
Camps — Text CHECK IN to 570-616-1530   or   click here WMH ED CAMP Check-in
For information on how to access your/your child's medical records and
create a Wayne Memorial portal account
 click here: Wayne Memorial Hospital Camper Info
CAMP HEALTH CENTERS
For camper request for treatment, click here 2022 Camp Registration (formerly Camp Request for Treatment)
For immediate access to our AUTHORIZATION FOR TREATMENT form,
click here Authorization for Hospital Treatment
  TICK-BORNE DISEASE INFORMATION for HEALTHCARE PROVIDERS
click here: WMH Tick-Borne Disease Guidelines
Did you know Wayne Memorial Community Health Centers has a
TICK-BORNE DISEASE WELLNESS CENTER?
Located at 750 Route 739 in Lords Valley, the Wellness Center accepts children age 8 and older for diagnostic testing, verification of a TBD (including Lyme Disease) and management of current symptoms for those with a previous diagnosis.
For more information or to make an appointment, call (570) 775-7100.  The office is situation within the Pike Family Health Center.