COVID-19 (novel coronavirus)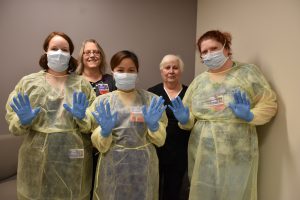 TO ALL OUR PATIENTS, VISITORS AND STAFF
Please know that Wayne Memorial Hospital and Wayne Memorial Community Health Centers are doing all they can to protect YOU, our patients and visitors– and, ultimately, the community in which we live.  The hospital has launched its INCIDENT COMMAND, which is a federal incident management plan that helps coordinate all activities related to, in this case, the exposure, diagnosis (testing) and treatment of novel coronavirus or COVID-19.  Symptoms of the disease include fever, cough, sore throat and shortness of breath.
WMH Actions 
Pre-screening of all patients and visitors, including temperature checking. Click here for more ENHANCED HOSPITAL ENTRY SCREENINGS

All staff required as of April 3, 2020, to wear a mask to help stop spread of the virus.  Read more here WMH Release – All Staff to Mask

Access to the hospital is now limited to the Main Entrance & the Emergency Department (ER). AT 6pm, the Main Entrance will close and only the ER door will be accessible. Doorbell access weekdays up until 3pm will be available on the second floor for patients.

To reduce the risk of infection to our most vulnerable patients, the following services are closed: Pulmonary & Cardiac Rehabilitation, Pulmonary Function Testing, the Sleep Medicine Lab, Nutrition Counseling and Audiology (Hearing Solutions on Main St., Honesdale).

Other hospital services are operational ((Lab, Imaging, Medical Records, Billing, Home Home Health). And of course, the ER is open 24/7!

As of March 30, 2020, outpatient services are closed at the Route 6 Mall, Honesdale; Delaware Street Rehabilitation Services, Honesdale; Lab & X-ray in Tafton and Waymart; Lab at the Forest City Health Center. Many of these services remain available at the hospital, the Carbondale Family Health Center, Hamlin Family Health Center and the Pike Medical Center. Outpatient Sites Curtailed
At Registration, patients are being fully screened.  In some cases, they will be isolated immediately. Wayne Memorial Community Health Centers' policy is similar. Both follow CDC guidelines.
VISITORS: Visitation is restricted during this time. Click here for details VISITOR RESTRICTION POLICY 2020
The hospital  has designated a specific unit  for patients who test positive for COVID-19. Negative air pressure rooms and  ICRA walls (infection control barriers) have been installed to maintain control of this area.
Nursing staff has been trained on Personal Protection Equipment (PPE) and how to work in the isolation unit to avoid exposure to COVID-19 patients.
Support groups which meet in the hospital have been cancelled (Parkinson's, Stroke, Alanon, etc). If you need information about them, contact Community Health at ext 8990.
WHO WILL BE TESTED?
Testing is being done by the PA Department of Health and some private commercial labs such as LabCorp. Protocols are different (right now) for each, and Wayne Memorial Hospital, working in concert with our community health centers, has developed a Testing Guidelines sheet.  At this point in time,  viral transport "media" (testing kits) are in short supply and testing will not be done for the sole purpose of testing.  Patients will be asked critical questions to determine their eligibility for available testing.  This may change. 
Questions?  Visit cdc.gov/coronavirus  or the PA Department of Health website for the latest information on the virus.
Helpful tip poster from the CDC:   stop-the-spread-of-germs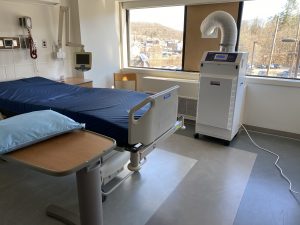 A patient room with an air purifier installed at the window, part of WMH preparations for isolating and treating positive COVID-19 patients. 
Help Prevent the Spread!
                 ·         Cover any coughs or sneezes with your elbow, do not use your hands!
Disinfect/wipe down hi-touch surfaces frequently, such as countertops, light switches and cell phones. Clean and disinfect frequently touched objects and surfaces using a regular household cleaning spray or wipe.
Contain- if you are sick, stay home. Call your healthcare provider. Use your phone to stay in touch.
Avoid close contact (within six feet) with people who are sick.
Wash hands frequently with soap and water; if not available, use an alcohol-based hand sanitizer with at least 60% alcohol.