COVID-19 (novel coronavirus)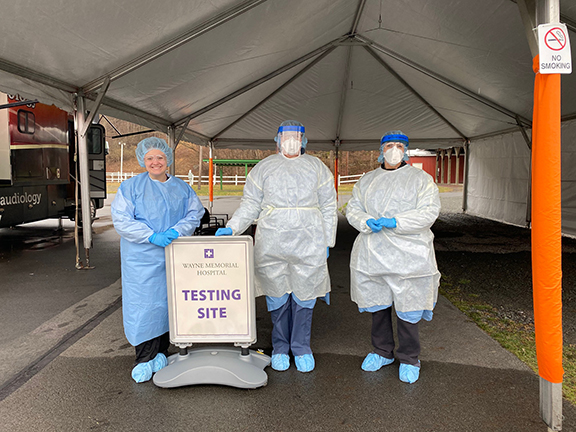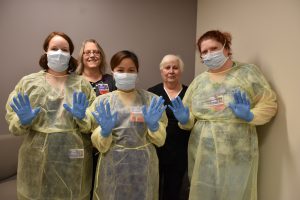 TO ALL OUR PATIENTS, VISITORS AND STAFF
Please know that Wayne Memorial Hospital and Wayne Memorial Community Health Centers are doing all they can to protect YOU, our patients and visitors– and, ultimately, the community in which we live.  The hospital has launched its INCIDENT COMMAND, which is a federal incident management plan that helps coordinate all activities related to, in this case, the exposure, diagnosis (testing) and treatment of novel coronavirus or COVID-19.  Symptoms of the disease include fever, cough, sore throat and shortness of breath.
As of June 12, 2020, Wayne Memorial Hospital's home county, Wayne, moved into the state's Green Phase and lifted some restrictions.
As some area schools plan to re-open,  Wayne Memorial collaborated with them on a video to educate, communicate and stress flexibility.  The video COVID & SCHOOLS RE-OPENING is below.  The video features Doctors Sean McVeigh,pulmonologist/COVID Task Force and James Cruse, Family Medicine/WMCHC Medical Director.
WMH Actions 
VISITORS: UPDATED JUNE 17, 2020 – Most units are now allowed visitors. Click here for details Updated Visitor Policy 6-17-2020

TESTING:   As of the end of July 2020, WMH mobile testing for COVID-19 will be restricted to the Wayne County Fairgrounds only which is now offering those tests five days a week, Mon- Fri, 8am – 4pm. The Pike site's last day was July 30th. Hospital officials say test numbers in Pike were low and did not warrant the staffing. At the same time, requests picked up in Wayne County due to an increase in elective procedures at the hospital. Anyone who is admitted for surgery or otherwise must have a COVID-19 test prior to admission.  Prescription required for all tests.

May, 2020:  WMH RE-OPENS physical therapy services at the Route 6 Mall, Honesdale, as well as occupational therapy for lymphedema patients.  More PT, as well as OT and speech therapy services are expected to open again soon.  Diagnostic services that had been limited to emergency cases opened in late April. Some outpatient sites re-open for laboratory services, mornings only 6:30am -10:30am.   Safety measures heightened. Click here for more  Re-revised JUNE – Reopening Services

Pre-screening of all patients and visitors, including temperature checking.  ALL VISITORS MUST WEAR A MASK TO ENTER THE HOSPITAL. If you do not have a mask, a cloth one will be provided. Pre-screening includes questions about possible exposure to COVID-19 patients or travel to an area affected by an outbreak.

All staff required as of April 3, 2020, to wear a mask to help stop spread of the virus.  Read more here WMH Release – All Staff to Mask

Access to the hospital is now limited to the Main Entrance & the Emergency Department (ER). AT 4pm, the Main Entrance will close and only the ER door will be accessible. Doorbell access weekdays up until 3pm will be available on the second floor for patients.

To reduce the risk of infection to our most vulnerable patients, the following services are closed: Pulmonary & Cardiac Rehabilitation, Pulmonary Function Testing, the Sleep Medicine Lab, Nutrition Counseling and Audiology (Hearing Solutions on Main St., Honesdale).

Other hospital services are operational ((Lab, Imaging, Medical Records, Billing, Home Home Health). And of course, the ER is open 24/7!
Wayne Memorial Community Health Centers'  access policies are similar: they are screening patients for COVID exposure and asking everyone to be masked.  Both WMH and WMCHC are following CDC guidelines. WMCHC now offering tele-health WMCHC Utilizing Telemedicine During COVID-19
The hospital  has designated a specific unit  for patients who test positive for COVID-19. Negative air pressure rooms and  ICRA walls (infection control barriers) have been installed to maintain control of this area.
Nursing staff has been trained on Personal Protection Equipment (PPE) and how to work in the isolation unit to avoid exposure to COVID-19 patients.
Support groups which meet in the hospital have been cancelled (Parkinson's, Stroke, Alanon, etc). If you need information about them, contact Community Health at ext 8990.
COVID & SCHOOLS RE-OPENING
FORENSIC STAFF EDUCATION
Please click on this video for helpful information
WHO WILL BE TESTED?
Testing is being done by the PA Department of Health and some private commercial labs such as LabCorp. Protocols are different (right now) for each, and Wayne Memorial Hospital, working in concert with our community health centers, has developed a Testing Guidelines sheet.  At this point in time,  viral transport "media" (testing kits) are in short supply and testing will not be done for the sole purpose of testing.  Patients will be asked critical questions to determine their eligibility for available testing.  This may change. 
Questions?  Visit cdc.gov/coronavirus  or the PA Department of Health website for the latest information on the virus.
HELPFUL INFORMATION FROM THE PA DEPARTMENT OF HEALTH:
Phases & Businesses Life Sustaining Business Frequently Asked Questions 5.7.20
What drugs are being used to treat COVID-19?Treatment Drugs FAQ
Contact Tracing – who is being contacted? Contact Tracing Info Sheet
Donations
Thank you to all who are so supportive of our front-line staff during these difficult times!
Masks, Gowns, Shields & Other Goods
We are accepting cloth masks, N95s and surgical masks. Click here for cloth mask pattern  Mask pattern
Masks can be dropped off on the porch of Community Relations, 504 Park St., Honesdale, the white house across from the hospital. If you call us 570-253-8990/8422 and let us know you have left them in the box on the porch, we can be sure to pick them up.
Food
Please contact Joyce Malicky malicky@wmh.org  or call her at  570-253-8737. for any food trays or goods you wish to give our staff.  Your donations are much appreciated!
Helpful tip poster from the CDC:   stop-the-spread-of-germs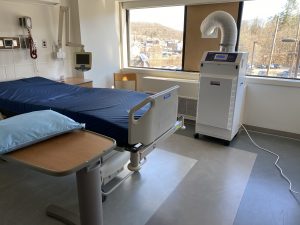 A patient room with an air purifier installed at the window, part of WMH preparations for isolating and treating positive COVID-19 patients. 
Help Prevent the Spread!
                 ·         Cover any coughs or sneezes with your elbow, do not use your hands!
Disinfect/wipe down hi-touch surfaces frequently, such as countertops, light switches and cell phones. Clean and disinfect frequently touched objects and surfaces using a regular household cleaning spray or wipe.
Contain- if you are sick, stay home. Call your healthcare provider. Use your phone to stay in touch.
Avoid close contact (within six feet) with people who are sick.
Wash hands frequently with soap and water; if not available, use an alcohol-based hand sanitizer with at least 60% alcohol.