Rehabilitation Services
Route 6 Mall, Honesdale (570) 253-7322
Physical therapy & Lymphedema therapy
Monday – Friday 8am – 4:30pm  Call for an appointment.
Adult PT, Occupational Therapy & Speech Therapy coming back soon.
190 Delaware Street, Honesdale (570) 253-7325
Physical, Occupational & Speech Therapy
Monday – Friday  8am – 4:30pm
Cardiac Rehabilitation
Cardiac Rehabilitation is a comprehensive approach to helping individuals with cardiovascular diseases improve the quality of their lives. The purposes of Wayne Memorial Hospital's Cardiac Rehabilitation Program are:
To increase the functional exercise capacity
To provide education
To help patients and their families deal with the emotional aspects of cardiovascular disease
For information, call (570) 253-8253 or view our Cardiac Rehab Brochure. Visit our Cardiac Rehabilitation page under Services.
Pulmonary Rehabilitation
36 session program for people with chronic respiratory problems
Multi-disciplinary team, including respiratory and physical therapists, registered dieticians and social service workers
Monday – Wednesday, 7am – 3:30 pm   Tuesday – Thursday 7am – 3:30pm
For more information, call (570) 253-8364
Audiology
Wayne Memorial Hearing Solutions 909 Main Street, Honesdale (570) 253-7323
THERAPY SERVICES
PT/OT/Speech Therapy
At Wayne Memorial Hospital's Rehabilitation Services, our highly skilled and compassionate physical, occupational and speech therapists work with you to help you live the life you want. We pride ourselves on providing the most individualized and highest quality of care possible. Ask about our one-on-one treatment services!
Continuum of Care
Our therapists strive to offer a comprehensive seamless continuum of rehabilitative care– from inpatient to outpatient services. If you have had an imaging service at Wayne Memorial (MRI, X-ray, CT, etc.), there's no waiting in our rehabilitation setting. Our therapists can access this data through our shared network.
Inpatient & Outpatient Rehabilitation Services
We offer services in the acute care hospital setting, short-term inpatient rehabilitation through the Wayne Memorial-Good Shepherd Inpatient Rehabilitation Center, home health services, and two outpatient rehab sites in Honesdale — at the Route 6 Mall and 190 Delaware Street.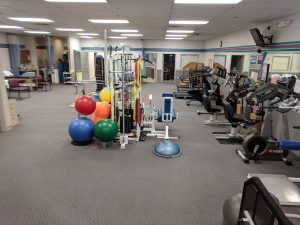 Outpatient Rehabilitation Services
A full range of rehabilitation services is available including Audiology, Physical Therapy, Occupational Therapy and Speech Therapy.
Physical Therapy, Occupational Therapy and Speech Therapy
Specialized Therapies
Patients with Parkinson's and other neurological disorders –   We have therapists certified in Parkinson's  "BIG & LOUD" therapy.
Lymphedema Therapy  –  Complete Decongestive Therapy
Cancer Rehabilitation Services –Oncology Rehab Brochure
---
OPEN  24/7 
Good-Shepherd-Wayne Memorial Hospital Inpatient Rehabilitation Center
For more information about Good Shepherd-Wayne Memorial Inpatient Rehabilitation Center call (570) 253-8728 or (570) 253-8731
Our Patients
Patients admitted to the Good Shepherd Inpatient Rehabilitation Center must be strong enough to participate in an intensive rehabilitation program for a minimum of three hours per day at least five days per week. An individualized rehabilitation program designed to enhance function and independence is developed for each patient by a team of specialized rehabilitation professionals.
Patients can be admitted from an acute care hospital, a skilled nursing facility or from home. A potential patient may be referred by calling the Nurse Liaison at the Good Shepherd-Wayne Memorial Inpatient Rehabilitation Center at (570) 253-8728.
Each patient's evaluation and progress is directed and monitored by a physiatrist and an interdisciplinary team consisting of a primary rehabilitation nurse; physical, occupational and speech therapists; and a social worker. When appropriate, a dietitian and member of the community's pastoral care network may serve on the team. Pet therapy and independence-building outings are also offered.
How We Can Help
The Good Shepherd – Wayne Memorial Inpatient Rehabilitation Center offers comprehensive inpatient rehabilitation services within Wayne Memorial Hospital. You may be referred to us for an inpatient rehabilitation program by your physician, insurance company, discharge planner/social worker, home health agency, family member or by self-referral.
At Good Shepherd-Wayne Memorial Inpatient Rehabilitation Center, we can help you or your loved ones with the following:
Orthopedic and musculoskeletal conditions:
Certain hip and knee replacements
Major or multiple fractures of the femur, hip, pelvis and upper extremities
Multiple Trauma
Amputations
Severe Arthritis
Cardiac Disease
Pulmonary Disease
Kidney Disease
Cancer
General Rehabilitation needs, including deconditioning
Neurologic Conditions:
Strokes
Multiple Sclerosis
Parkinson's Disease
Visiting Hours
Family members and caregivers are an important part of a successful rehabilitation team. Liberal visiting hours encourage family and friends to visit often and take an active role in therapy. Family members are encouraged to accompany patients to therapy sessions so they may learn new skills to help their loved one after returning home.
Transitioning to Outpatient Rehabilitation
Following discharge from the Good Shepherd -Wayne Memorial Inpatient Rehabilitation Center, a patient may return home or to another level of care. Some patient may need continued care after discharge depending on level of function or type of support needed. Our team will coordinate services for outpatient therapy, home health or skilled care. Both Wayne Memorial Health System and Good Shepherd offer outpatient rehabilitation services at more than a dozen convenient locations in eastern Pennsylvania.