WMH Service Awards – Big 4-0 for Two Staffers!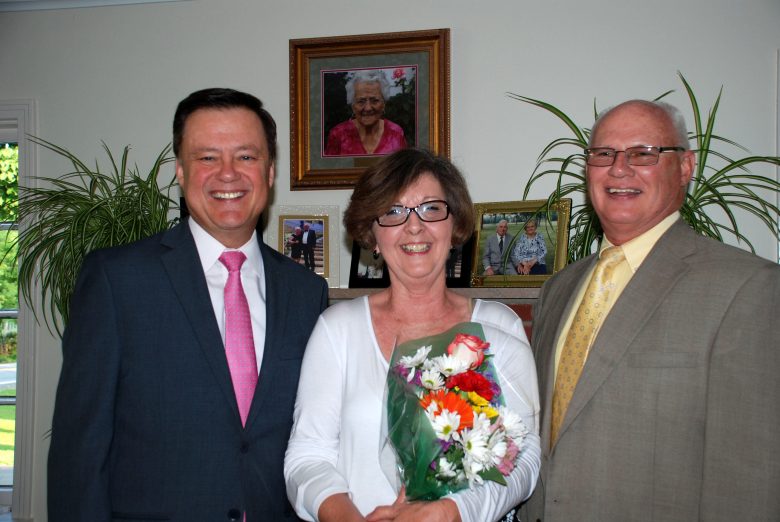 (Honesdale, June 20, 2017…"When I started at Wayne Memorial Hospital in 1977, we used a keypunch machine!" said Connie Donat, Business Office, who along with Debra Schuman, Medical Records marked 40 years at WMH this year. The two were among 91 employees recognized at the hospital's annual Service Awards dinner on June 15th at Lukan's Farm Resort in Hawley. The awards honor employees at five-year increments and include individually chosen gifts for each staffer.
Donat, a Honesdale native, mother of two boys and grandmother of three, admitted the hospital "has certainly grown over the years. But it's still a small enough place where you feel like you know everybody."
CEO David Hoff, Hospital/Health System Board Chair Dirk Mumford and Chief of the Medical Staff, William Dewar III, MD each thanked the employees for their commitment to Wayne Memorial and its patients. "It's an honor to work with you," said Dr. Dewar who also noted a few staffers in particular, such as Doug Buchinski, a Radiology technologist with 20 years at WMH "who could always find a way to fit in a CT scan for you" and Nadine Greco, celebrating 25 years, "the Queen of Cardiac Rehab!"
The evening, organized by WMH Human Resources, traditionally includes a video presentation of milestones the year employees were hired. In 1977, when Donat joined WMH, gas was 65 cents a gallon, New York City suffered a 25-hour blackout and Love Boat premiered on television.
This year's dinner also saw the first significant influx of employees from Marian Community Hospital, which shuttered its doors in 2012, much to the sadness of the Carbondale community and its staff. "Wayne Memorial reminds me of Marian," mused Patricia Carcione, Radiology. "It's really like a family here, and I'm blessed with good coworkers." The Dickson City resident laughed about coming over Farview Mountain each day. "My manager Rob (Brzuchalski) promised us when the weather is bad he'll take care of us. During the blizzard in March, he did just that—he found us a place to stay overnight."
"I was worried I would never find a place where I loved to work," said Maria Diehl, Public Relations. "And I have actually found two—Marian and here."
Mr. Hoff asked employees to be helpful and patient during the hospital's expansion project expected to kick off in the next five to eight months. "It's going to happen right around the hospital's 100th birthday in 2020. What a great way to celebrate. This could be one of the most exciting times in the history of Wayne Memorial."
Photo: Connie Donat, celebrating 40 years at Wayne Memorial Hospital, is flanked by CEO David Hoff (left) and CFO Michael Clifford, who oversees Donat in the hospital's Business Office.