Construction Prompts Parking Changes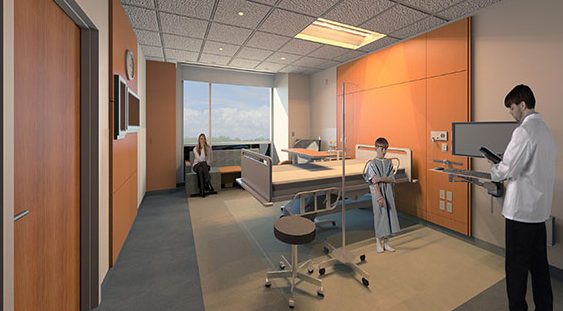 (Honesdale, August 15, 2017)…The construction of a new 85,000 square foot patient tower with 50 private rooms (photo) at Wayne Memorial, beginning this fall, is prompting major changes in parking rules for patients, visitors and staff. Administration officials say safety during the construction is prompting the change. The most significant change will require patients and visitors to park across Park Street (Route 6) and use a crosswalk to enter the hospital.
"We will have many construction vehicles at the proposed site of the tower, near what is now the Outpatient Services entrance," says John Conte, director of Facility Services & Real Estate, "and in the interest of safety we believe it's best to ask patients, particularly those who use short-term services such as lab and Imaging, to use the lot across the street. The high turnover necessitates this precaution."
Conte says additional staff will be stationed across the street in shed, which will also have wheelchairs to assist patients across the street.
Other parking changes include: the closing of the parking garage as of late August. Patients are asked to use the main entrance (by the Emergency Department) to the hospital Anyone with special needs is asked to let WMH staff known when making an appointment for any of their services, including Chemotherapy, Wound Care, Same Day Surgery and Cast Care. "Our staff will be happy to meet you at the main entrance to help," says James Pettinato, BSN, RN BSN, MHSA, director Patient Care Services.
In early September, the Outpatient Services entrance will be shut down and the adjacent parking lot closed to patients for safety reasons related to construction traffic. This lot will be restricted to staff parking.
Also in early September, Emergency Department parking will be limited to four handicapped spaces. The ED lane will allow for pickup and drop-off only, and signs will direct traffic to a new exit onto Route 6. Patient parking spaces are plentiful across the street, where a security guard will be stationed to help. Again, wheelchairs will be available in this lot.
"We truly appreciate your cooperation and want you to know that your safety and satisfaction are our top priorities," says WMH CEO David Hoff. "The development of our new 85,000 square foot patient tower with 50 private patient rooms, as well as renovations to many existing units grew out of Community Needs Assessments—you told us these were the changes you wanted! We are pleased to be able to facilitate your requests.
The construction is expected to last 18-to-20 months. "We anticipate parking challenges now," Hoff adds, "but when Wayne Memorial celebrates its 100th anniversary in 2020, those will hopefully be behind us and a new, modern, state-of-the art facility before us."
Photo: Architect's rendering of one of 50 private rooms about to be built at Wayne Memorial Hospital.
Other photos:  New Parking legend; future exterior WMH.