WMH Adds New Lab Site in Honesdale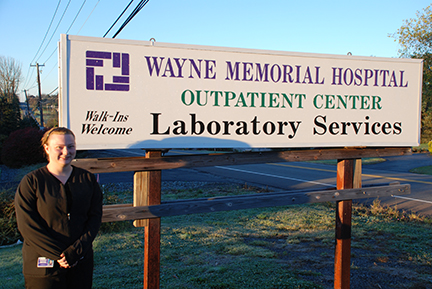 (Honesdale, October 16, 2017)… On Monday, October 16th, Wayne Memorial Hospital officially opened a Laboratory Services site at 3202 Lake Ariel Highway (Route 191 South), Honesdale.  The new center, approved by the Pennsylvania Department of Health today, is the eighth satellite office of laboratory services offered by the hospital and the second one in Honesdale.
"We are pleased to open another laboratory services center in Honesdale," said James Hockenbury, director Ancillary Services. "It was precipitated partly by an increase in volume at our other site on Route 6, which points to a great need, and partly by our current construction project at the hospital. We are encouraging patients to avoid the construction areas by using more of our ancillary sites."
The new site is open for blood draws and other laboratory services Monday to Friday, 6:30am – 1pm. Walk-ins welcome! The phone number is 570-253-8437. Wayne Memorial accepts most insurance plans and public assistance.
The hospital offers outpatient services, such as laboratory services, x-rays, EKGs, pulmonary function testing, ultrasounds and mammograms at its main campus at 601 Park Street, Honesdale, and at additional locations in Honesdale, Hamlin, Carbondale, Waymart, Tafton, Lords Valley and Forest City. Blood-draw services are also offered at the Northern Wayne Family Health Center in Lake Como through the hospital's clinical affiliate, Wayne Memorial Community Health Centers. For more information about Wayne Memorial ancillary sites and services, visit www.wmh.org
Photo: Kim Hartzell, Lab Technologist, at new WMH site on Route 191 South (near Dulay Homes, between Clark's Sunrise Market and the Owego Tpke).