WMCHC Awards Employees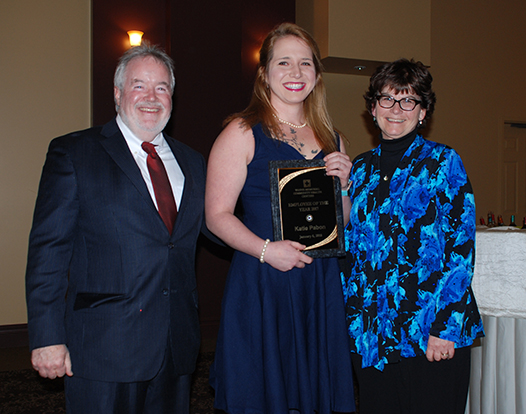 Honesdale, PA (January 19, 2018) –Wayne Memorial Community Health Centers (WMCHC) recognized staff for outstanding performance, leadership and consecutive years of service at its annual employee holiday celebration held January 6th at the Carbondale Grand Hotel.
"This time each year we take the opportunity to thank all staff for their outstanding work," stated Frederick Jackson, executive director, WMCHC. "Additionally, individuals nominated by their peers for making exceptional contributions are selected for awards of distinction."
Among the prestigious accolades was the inaugural Employee of the Year Award given to Katie Pabon, medical assistant at the Honesdale Family Health Center and Honesdale VA Outpatient Clinic. Eligibility criteria for Employee of the Year mandates receiving at least one "Commitment to Excellence Award" during 2017. Pabon was honored with a Commitment to Excellence Award–a monthly recognition highlighting efforts to improve patient experience, office processes and clinical outcomes—on three separate occasions.
Provider honors announced during the celebration included the Golden Stethoscope Award given to Jeffrey Ryan, MD, Honesdale VA Outpatient Clinic and Jennifer Weidner-Clark, PA-C, Highland Physicians Family Health Center, as well as the Golden Dentistry Award to Vance Jones, DDS, Together for Health Dental Center. Additional award recipients included:  Michelle Corrigan, RN; Carolee Keating, RN and Denise Matern for the Above and Beyond Award; Kerri Falco for Community Service Award and Staff of the Hamlin Family Health Center and Erinne Miller for Teamwork Award.
WMCHC is a multi-specialty group comprised of primary care, women's health, behavioral health and dental sites, as well as specialty practices in pulmonary, cardiology, surgery, bariatrics and neurology located throughout Wayne, Pike and Lackawanna counties. It is a federally qualified health center clinically affiliated with Wayne Memorial Health System, Inc. For more information on all services, visit www.wmchc.net or call 570-253-8390.