Wayne Woodlands' Marion Swencki Retires!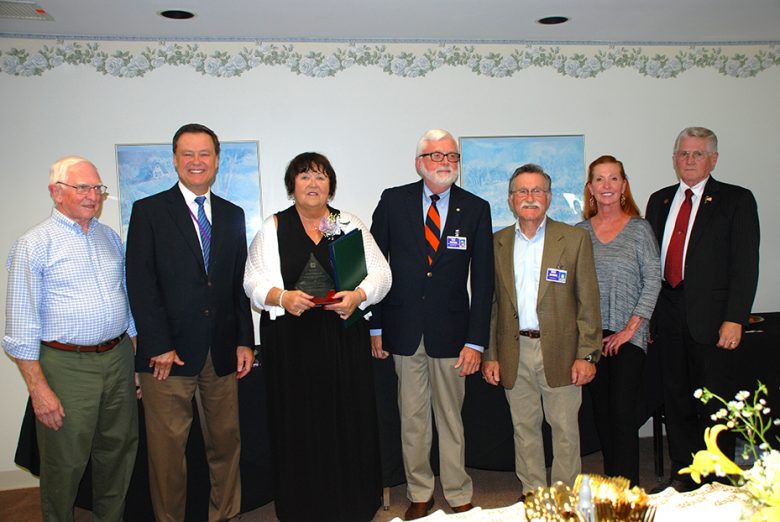 (Honesdale, July 27, 2017)….A corsage, a plaque, proclamations and dozens of hugs and kisses were presented to Marion Swencki, RN, NHA at her retirement party at Wayne Woodlands Manor in Waymart on July 26th. More than 75 people turned out to bid Marion goodbye and share memories of times past. Marion is leaving her post as administrator of the nursing home, which she helped found in 1994. She told the crowd that she is leaving "with mixed feelings. I really love my job and have loved it from day one!" She promised to drop in for coffee with residents of the 121-bed home. Wayne Woodlands is part of Wayne Memorial Health System, and its CEO, David Hoff, gave Marion a plaque that praised her foresight, wisdom and compassion. Proclamations in her honor were bestowed by PA Senator Lisa Baker (via her aide Andrew Seder), PA Representative Jonathan Fritz and Waymart Mayor Chip Norella. Representative Fritz said his grandmother was a resident at Wayne Woodlands and he had a special place in his heart for Marion. So did many others in the room. A hand-drawn card, with a big heart right in the middle, was signed by dozens of residents of the home. A successor has not been named yet, but Marion vowed to stay to help her replacement through the transition.
Photo left to right: Wayne Memorial Health System board member Wendell Hunt; WMHS CEO David Hoff; Marion Swencki, RN, NHA; WMHS Board Chairman Dirk Mumford; WMHS First Vice Chair Hugh Rechner; WMHS Second Vice Chair Joann Hudak; and WMHS Long-Term Care Board Chairman Jim Labar.
Photo 2: Marion Swencki, RN, NHA received a "heart-felt" goodbye at her retirement party in the form of a card signed by residents of Wayne Woodlands Manor, where she has been administrator for 26 years. Left to right: Sue Ellen Tracey, Marion, Rose Trella.