Wayne Memorial Hospital Gets an "A" for Patient Safety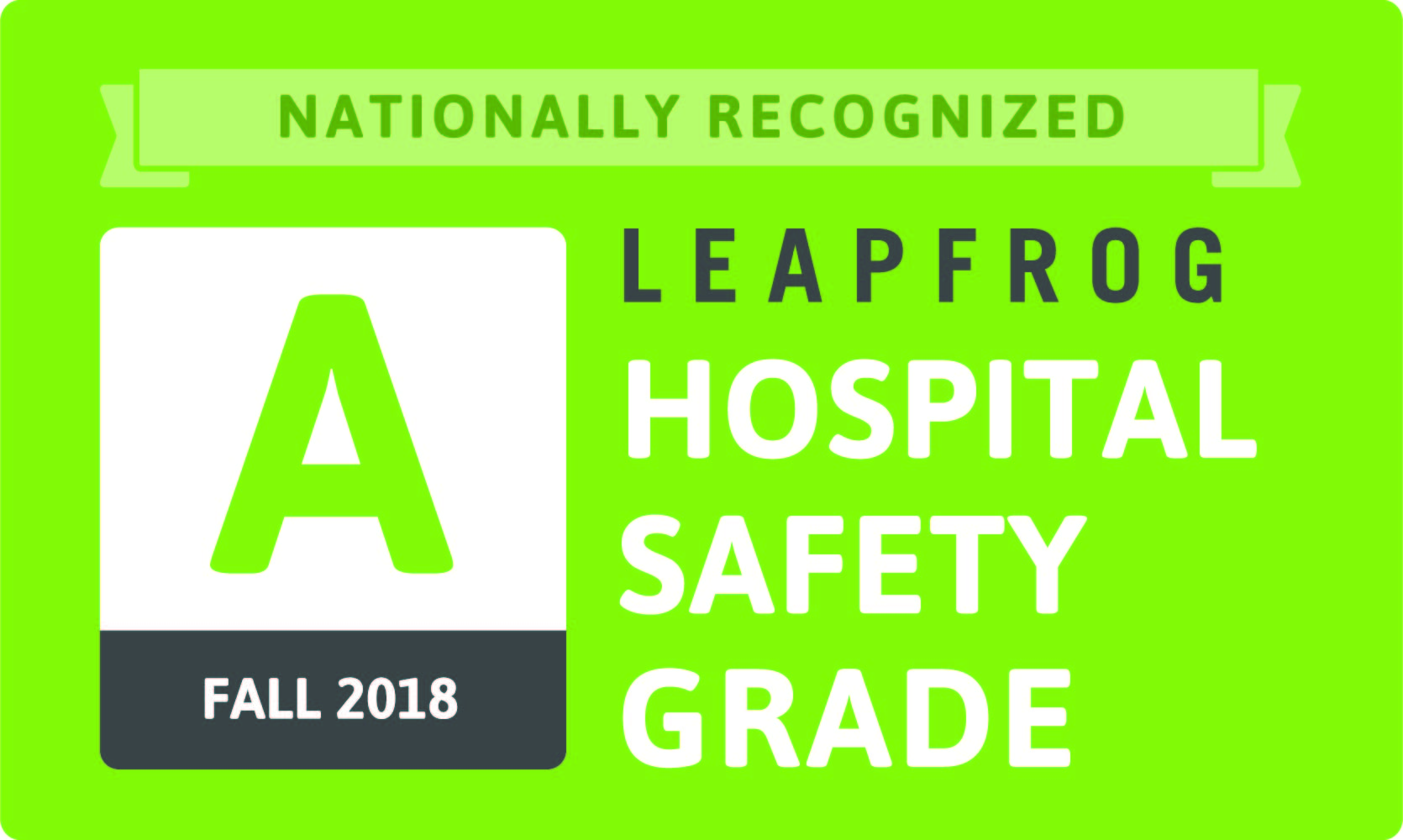 (Honesdale, January 4, 2019)… Wayne Memorial Hospital is one of only 50 hospitals in Pennsylvania—and the only one in a 40-mile radius— to receive an "A" grade in the Fall 2018 Patient Safety Survey from the Leapfrog group, a non-profit patient safety watchdog organization. The designation recognizes Wayne Memorial's efforts in protecting patients from harm and meeting the highest safety standards in the United States.
The Leapfrog Group is a national organization committed to improving healthcare quality and safety for consumers and purchasers. The Safety Grade assigns an A, B, C, D or F grade to hospitals across the country based on their performance in preventing medical errors, infections and other harms among patients in their care. Medical errors are the third leading cause of death in the United States.
"Patient safety is and has always been a top concern for us at Wayne Memorial," said CEO David Hoff. "We have a Patient Safety Committee that meets regularly, collects data and routinely checks up on follow-through. The committee has a broad scope. Members review everything from clinical data to maintenance status on equipment such as fire extinguishers and overhead sprinklers. We are very proud of our grade from Leapfrog."
Hoff noted that preventing infections, using technology to ensure safer care, creating policies and reviewing practices are standard at Wayne Memorial. He referred specifically to the C-section rate. "A cesarean section is major surgery," said Hoff, "and we have one of the lowest C-section rates in the country." Wayne Memorial's C-section rate for first-time mothers is 13-15%, compared to 32% nationally according to the Centers for Disease Control and Prevention.
Developed under the guidance of a National Expert Panel, the Leapfrog Hospital Safety Grade uses 28 measures of publicly available hospital safety data to assign grades to more than 2,600 U.S. hospitals twice per year. The Hospital Safety Grade's methodology is peer-reviewed and fully transparent, and the results are free to the public.
"Leapfrog's Hospital Safety Grades recognize hospitals like Wayne Memorial that focus on advancing patient safety. This ranking provides an important resource for patients, and a benchmark for hospitals, to determine how care at one hospital compares to others in a region," said Leah Binder, president and CEO of The Leapfrog Group. "Hospitals that earn an A Hospital Safety Grade deserve to be recognized for their efforts in preventing medical harm and errors."
Leapfrog releases hospital safety grades in the spring and fall to encourage consumers to compare hospitals in their area. The organization was formed in 2000 and now reports data from more than 2,000 hospitals. Wayne Memorial was one of 855 across the United States awarded an A in the Fall 2018 update of grades. To see Wayne Memorial's full grade details, and to access patient tips for staying safe in the hospital, visit www.hospitalsafetygrade.org.
Wayne Memorial Hospital, based in Honesdale, Pennsylvania, has 88 acute-care beds and another 12 dedicated to inpatient rehabilitation. It's the heart of Wayne Memorial Health System, which offers services to more than 120,000 people in four counties through the hospital, outpatient facilities, a long-term care home Wayne Woodlands Manor and physician offices through its clinical affiliate, Wayne Memorial Community Health Centers. Visit www.wmh.org for more information.