Wayne Memorial Helps Local Businesses Support Breastfeeding Families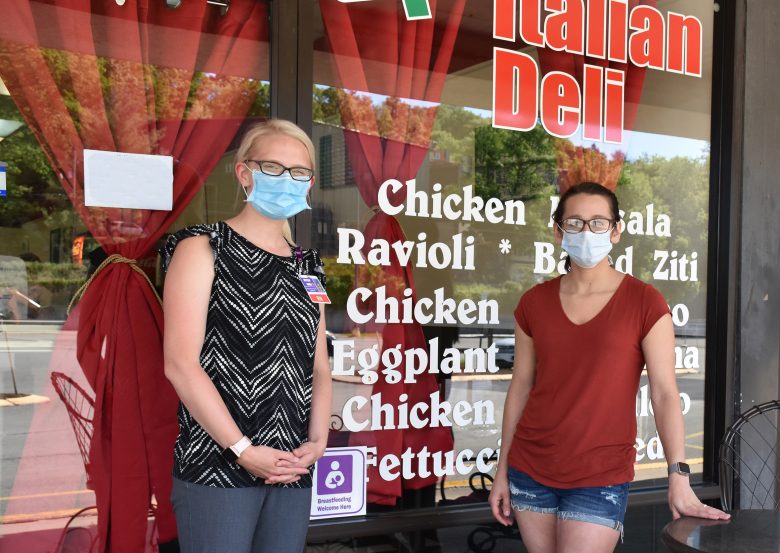 "Breastfeeding Welcome Here" signs are now prominently displayed on doors and windows of nearly 20 Honesdale area businesses. The initiative, spearheaded by Brittany Kimble, RN, BSN, IBCLC, an International Board Certified Lactation Consultant at the Women's Health Center and Wayne Memorial Hospital, is supported by a grant from the PA Perinatal Partnership (www.accessmatters.org/pennsylvania-perinatal-partnership)  whose mission is to improve women's and children's health outcomes through education, collaboration and advocacy.
Among the components of the Pennsylvania Perinatal Partnership Breastfeeding Community Grant awarded to Wayne Memorial Community Health Centers in October of last year was a community project intended to rally support for breastfeeding families. Although Kimble was able to keep in-person patient consultations and provide education for nursing mothers-to-be via social media throughout the COVID-19 pandemic, hosting a community outreach in a world devoid of public gatherings remained a challenge.
When restrictions began to ease up for Pennsylvania businesses in late March of 2021, Kimble gathered a list of local establishments ranging from restaurants to the public library and approached them about posting the signs which she says are "meant to increase support for breastfeeding families in the public and in our community".
"I was a little nervous about the response I would get," stated Kimble referring to initial phone calls she placed. Much to her relief, Kimble was met with the resounding answer of "yes" to her request. And, it didn't stop there. To date 18 organizations have agreed to display the eight-by-eight inch placard in their establishments. These include: Arthur Avenue Italian Deli; Black and Brass; Camp Umpys; Cherry Ridge Airport; The Cooperage; Cordaro's Restaurant; Elegante Restaurant & Pizzeria; Gravity Ice Cream, Gretchen's Grotto, Halfway House, KC Pepper; Laurel's Hometown Café, Locos Gringos Coastal Mexican Grill; Papa's Primo Pizza; Sprout Dental; Two Guys and the Wayne County Library
Any business owner wishing to be part of the "Breastfeeding Welcome" initiative is encouraged to contact Brittany Kimble at the Women's Health Center by calling 570-253-3005 or via email kimblebr@wmh.org.
Photo: Left to right, Brittany Kimble, RN, BSN, IBCLC, of the Women's Health Center is shown with Kori Pons who co-owns Arthur Avenue Italian Deli in Honesdale with her husband Peter. Arthur Avenue is one of nearly 20 businesses supporting breastfeeding families in the community.