Wayne Memorial Community Health Centers Distributing N95 Masks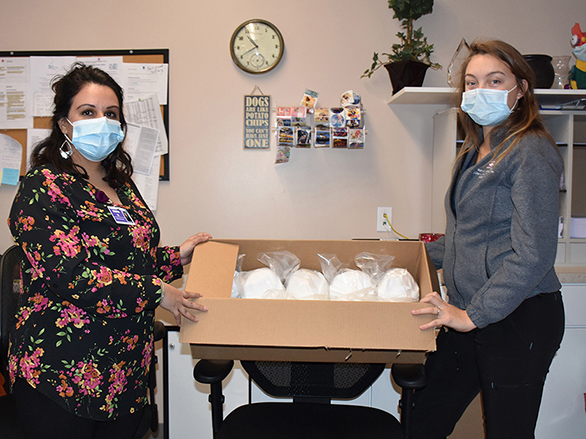 (Honesdale, January 28, 202 … Wayne Memorial Community Health Centers, (WMCHC) received a shipment of 9,600 adult N95 masks as part of the HRSA Health Center COVID19 N95 Mask Program. Masks will be given to patients and the general public at all WMCHC'S primary care, urgent care and dental sites during regular office hours, while supplies last. Visit www.wmh.org and click learn more here under COVID-19 header for a list of locations and hours. Masking/face covering is required to enter any WMCHC facility.
WMCHC was notified on January 17th that it was among seven of Pennsylvania's 53 Community Health Centers invited to participate as a "pilot" in the program's initial roll out. On January 21st the program was open to all Federally Qualified Health Centers (FQHCs) nationwide.
Having a leg up on the ordering progress, WMCHC officials wasted no time getting cases of masks out to offices, into the hands and  ultimately on the faces of its community. Development Manager for WMCHC Erica Brown reported shortly after 10:30 am, "all of the masks are either in offices or in route," she thanked her coworkers for their amazing work adding "I think the distribution was done in record time." A second shipment of two pallets is scheduled to arrive next week.
The Mask Program is another building block for Community Health Centers to support their local communities through allocation of much needed COVID-19 response resources. WMCHC offices are also serving as distribution sites for COVID-19 self-test kits offered at no cost to patients and community members. A total of 10,000 kits were given away earlier this month. WMCHC officials are anxiously awaiting another shipment of test kits which were expected nearly two weeks ago.
"We are asking for your patience regarding the availability of test kits," stated Brown. "Once the kits do arrive, we will work diligently to get them into our offices for quick distribution." The public is advised to check www.wmh.org, and watch the Wayne Memorial Hospital's Facebook page for updates.
Photo: Shown at Lake Region Urgent Care are, left to right, Roberta Martins, medical secretary and Sam Hopkins, LPN, shortly after receiving boxes of N95 Masks to be distributed to the public. All of WMCHC's primary care and dental offices will have masks available while supplies last.