Waymart FHC Staff Shows Support During Cleft Lip and Palate Awareness Month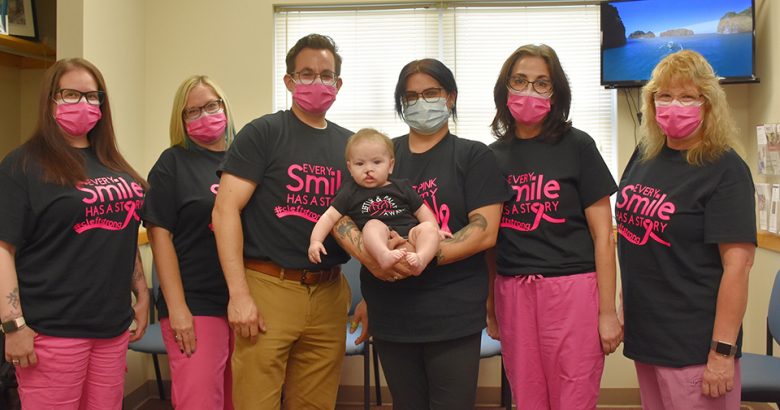 Honesdale, PA (July 20, 2022) — Every smile has a story, especially seven-month-old Hunter Starbuck's of Greenfield Township.  The infant son of Desiree Esgro and Billy Starbuck, Hunter was born with a cleft lip and cleft palate, conditions occurring when the tissue making up the lip and the top of the mouth do not join completely before birth. His mother wholeheartedly agreed to join the staff of the Waymart Family Health Center in a photo to share the story of her own family's journey and help spread awareness during Cleft Lip and Palate Awareness Month, July.
"I wanted to do this so people would know Hunter is just as normal as any other baby out there," said Esgro, "It isn't something they should be afraid of when they see him."  Esgro added that her son is on a path to recovery. He had a first impression taken six weeks ago in Allentown for a Latham appliance, a pre-surgical orthodontic device which will be part of the treatment needed to repair his lip and palate.
While Esgro sported a t-shirt emblazoned with the words, "I Wear Hot Pink for My Son" —  pink being the official Cleft Palate Awareness color– the Waymart staff and Hunter's primary care provider T.J. Luma, MD, wore "Every Smile Tells A Story – #CLEFTSTRONG"  shirts.  Dr. Luma, board-certified family medicine physician at the Waymart and Carbondale Family, made a special trip to join the group.  Hunter modeled a custom onesie of his own.
Melissa Rotella, medical assistant at Waymart FHC, created the shirts, calling Hunter her inspiration. "Once we met Hunter, he melted our hearts," she said.
Rotella makes similar shirts for other causes on a monthly basis.  "I try to pick something that makes sense for healthy living or medical reasons," she stated.
According to the Centers for Disease Control and Prevention, approximately 1 in every 1,600 babies is born with cleft lip and cleft palate in the U.S. The causes of orofacial clefts in most infants are unknown. Visit www.cdc.gov for more information.
Both the Waymart and Carbondale Family Health Centers are part of Wayne Memorial Community Health Centers (WMCHC), a FQHC clinically affiliated with Wayne Memorial Health System, Inc. For information on all of WMCHCs' services, visit www.wmchc.net.
Photo: Promoting Cleft Lip and Cleft Palate Awareness Month are staff members of the Waymart Family Health Center with seven-month-old Hunter and Mom Desiree. Left to right are: Melissa Rotella, Waymart FHC; Sally DeGori, Waymart FHC; T. J. Luma, MD, family medicine physician; Desiree holding Hunter; Marci Kowalewski, PA-C, Waymart FHC and Kelly Hoherchak, Waymart FHC.