U.S. Senator Casey Visits WMH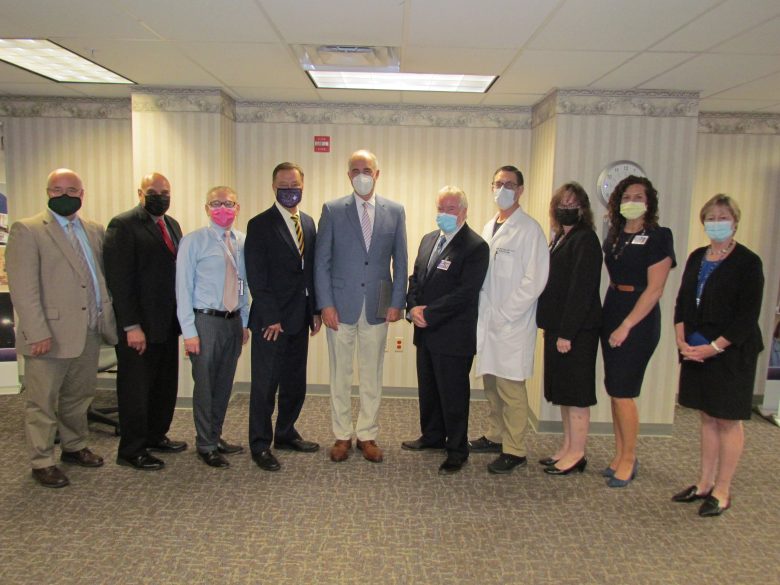 (Honesdale, September 20, 2021)… U.S. Senator Bob Casey Jr. (D-PA) visited Wayne Memorial Hospital (WMH) on Friday September 17, 2021 to discuss all things COVID: vaccine distribution and hesitancy, the potential for widespread third doses of Moderna or Pfizer vaccines (currently limited only to the immune-compromised), the President Biden mandate that healthcare workers be vaccinated, and federal monies – CARES funding—to help manage the pandemic response.
Casey met with leaders from both the hospital and Wayne Memorial Community Health Centers. He said he was impressed with the strong joint initiative formed by both entities to face the unprecedented challenge. The senator was also asked about non-COVID related issues such as the state of 340B funding for community health centers.
One of Casey's aides noted, "This visit was short but it certainly could have gone on for two hours or more—a lot to talk about!"
 Group photo, left to right: Wayne Memorial Community Health Centers (WMCHC) CFO Robert Fortner; Wayne Memorial Hospital (WMH) Director Patient Care Services Jim Pettinato, RN; WMCHC Medical Director James Cruse, MD; WMH CEO David Hoff; Senator Bob Casey; WMCHC Executive Director Fred Jackson; WMH Covid Task Force Medical Director Sean McVeigh, MD; WMH CFO Patty Dunsinger; WMH Human Resources Director Bethany Fine; and WMH Public Relations Manager Lisa Champeau.
Below: Before he entered the hospital, Senator Casey was screened and chatted with Registration Clerk Susan Spewak.