Survivor Happiness — and Grief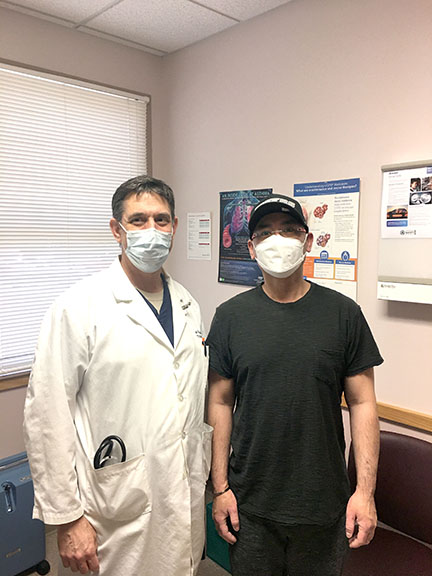 (Honesdale, May 21, 2020)… Mabel Lee Lau says her husband, Kwok Chung Lau, 47, has mixed emotions these days.  He survived COVID-19 after a "truly life-threatening 23 days" at Wayne Memorial Hospital, including six days of intubation. His mother, however, did not make it. Wai Lau, 69, died in the same unit. Kwok is glad to be alive, but his grief is palpable. "He doesn't want to talk too much," says Mabel, "it's a lot to process."
Neither COVID victim had a lot of symptoms, according to Mabel. Kwok had only body aches, his mother only fatigue and some difficulty breathing.  Wai Lau did have some underlying medical issues, her daughter-in-law adds, including "early-stage lung cancer, even though she didn't smoke."  A chest x-ray showed Wai's lungs "were filled with COVID fluid."
The Lau family – mother, son, wife and 12-year–old grandson – live in New York City and have a second home in Lake Ariel, where they self-quarantined for 14 days. Kwok is a medical transport driver in the city, but Mabel does not know where or how he contracted COVID.
"The care at Wayne Memorial Hospital was fantastic," says Mabel, "it was in fact the epitome of what hospital care should be. It was wonderful!"
Sean McVeigh, MD, chief pulmonologist at Wayne Memorial, oversees the COVID unit, where, since March, 27 patients have been admitted and treated.  Kwok is one of many survivors, according to Dr. McVeigh—"we have more who survive this terrible disease than not."
Meanwhile the Lau family is moving forward. Mabel reports Kwok is definitely on the mend. "He's gained back 10 pounds already, this is a good sign."
Photo:  Dr. McVeigh with COVID-19 survivor Kwok Chung Lau.