Staff "Excellence Award" for Care of Opioid-Exposed Infants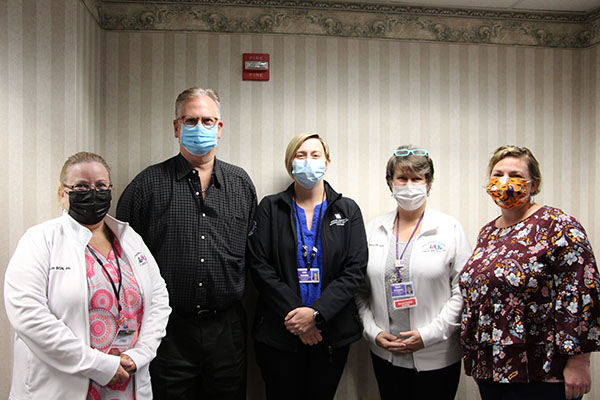 (Honesdale, December 1, 2021)… The Vermont Oxford Network has awarded Wayne Memorial's New Beginnings Birthing Suites a "Center of Excellence in Education and Training for Infants and Families Affected by Neonatal Abstinence Syndrome" certificate.  The Network known as VON is globally recognized as a leader in quality improvement collaboration and providing resources to help interdisciplinary teams meet the most complex challenges facing newborn caregivers.  More than 250 centers nationwide, including Wayne Memorial's New Beginnings Birthing Suites staff, have completed VON's universal training to standardize care for NAS.
            To achieve the designation, Wayne Memorial Hospital trained 85% or greater of its care team for substance-exposed infants. That team includes staff from New Beginnings as well as from the Women's Health Center, an obstetrics-gynecology practice with Wayne Memorial Community Health Centers.
Neonatal abstinence syndrome (NAS) is a drug withdrawal syndrome experienced by infants exposed to opioids while in utero. Infants born with NAS are more likely to have respiratory complications, feeding difficulty, low birthweights and extended hospital stays.
"We sought out the VON training for a number of reasons," said Janice Pettinato, RN, clinical co-coordinator for New Beginnings. "The organization's universal training solution helps improve not only the quality and safety of care but also can decrease unnecessary length of stays in hospitals and all those associated costs. It's definitely better for the patient, her baby and any family at home."
Pettinato said her team members each completed 18 online lessons and received accompanying support material presented by 35 NAS professionals.
Wayne Memorial births close to 500 infants a year. Only a small percentage are born with NAS, but the national trend for this population is increasing. The CDC estimates 80 newborns a day are diagnosed with NAS in the U.S.  "We hate to see the numbers going up, but we want to be prepared, too," said Janice, "and the VON training and this award shows that's what we're doing. I'm very proud of our staff for completing the curriculum."
Photo, l. to r.:  Mary Beth Dastalfo, RN, clinical co-coordinator WMH New Beginnings; Eric Rittenhouse, MD and Kara Poremba, RN, both from Women's Health; Pettinato; and Nicole Hartung, LSW.