Proclamation for Health Centers Week in Wayne County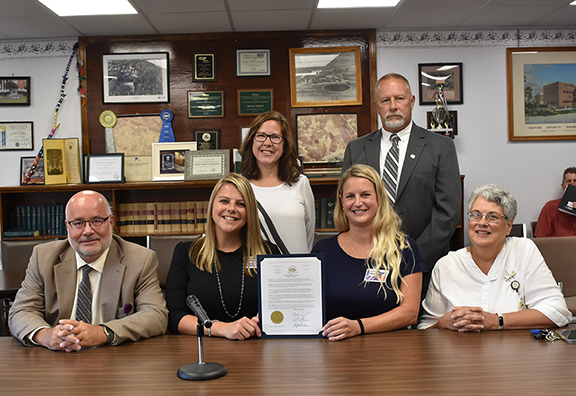 (Honesdale, August 4, 2022)… Wayne Memorial Community Health Centers (WMCHC) has been recognized and commended by the Wayne County Commissioners with a proclamation designating next week, August 7 – 13, "National Health Center Week" in the county.
WMCHC representatives were at the commissioners' meeting in Honesdale today in appreciation for the support and encouragement of the county/healthcare community partnership and continued growth.
Finance Director Bob Fortuner said WMCHC began in "2007 with two facilities and 23 employees. Today we have 19 facilities and 370 employees." WMCHC provides primary care, dental services, women's healthcare, pediatric services, urgent care, and behavioral health, surgical, and neurology services.
"I'm exceptionally enthused about healthcare here with Wayne Memorial," Commissioners' Chairman Brian Smith said. "It's a big part of our economy and security."
Community Health Centers were launched in 1965 to help increase access to primary care for vulnerable populations by reducing barriers such as cost, lack of insurance, distance, and language. They receive funding from the Health Resources and Services Administration to help them fulfill their mission. Today, there are 1,400 health centers in the U.S. providing care to more than 28 million people.
Photo, l. to r.: front row, WMCHC Finance Director Robert Fortuner; WMCHC Administrative Director Wynter Newman; WMCHC Dental Office Manager Nichole Yannone;WMCHC Pediatric Practice Administrator Linda Penwarden.
Back row, Wayne County Commissioners Jocelyn Cramer and Brian Smith