Plaque Dedication for Local Veteran Organizations at VA Clinic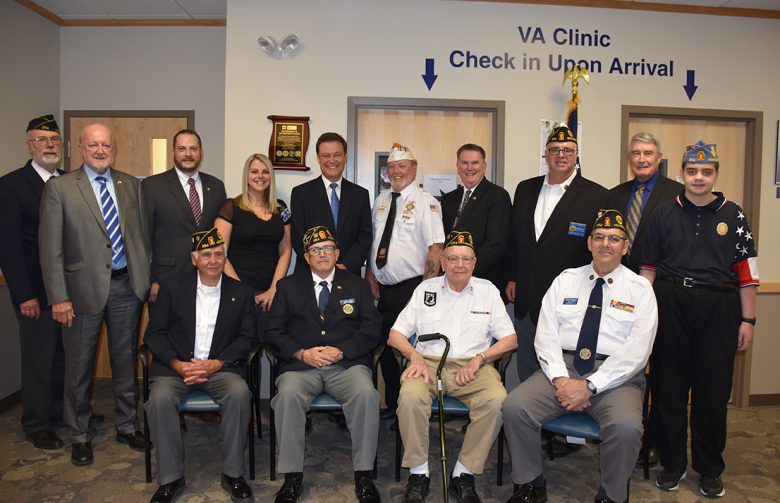 Honesdale, PA (June 18, 2018) – A round of applause filled the waiting room of the Honesdale VA Outpatient Clinic as Wayne Memorial Hospital Chief Executive Officer David Hoff and U.S. veteran Philip Sheehan, representing the Veterans of Foreign Wars Post 531, Honesdale, unveiled a plaque which is now a permanent fixture at the community-based outpatient clinic.
The plaque hangs in gratitude to four local veteran organizations for "vision and tireless efforts" leading to the formation of the Honesdale VA Outpatient Clinic which officially opened in 2014. Honored were the American Legion, Disabled American Veterans, Marine Corps League and Veterans of Foreign Wars.
"We are always treated with respect here," said Sheehan referring to the care and treatment given by the staff at Honesdale VA. Additionally, many of the veterans present at the ceremony expressed how access to primary care and blood draw services has made it possible for them to avoid lengthy travel and wait times for care.
Hoff praised the veteran groups as well as hospital, county, state and federal government officials who joined forces to "convince the Wilkes-Barre VA Medical Center officials to bring a clinic to the area" to be managed by Wayne Memorial Community Health Centers (WMCHC), a federally qualified health center (FQHC) and clinical affiliate of Wayne Memorial Health System, Inc. WMCHC is the only FQHC in the U.S. to have a VA clinic among its physician offices.
Honesdale VA Outpatient Clinic has a patient base of more than 1,000 veterans. A number, which according to Wynter Newman, office practice manager, continues to grow "although we have been established for nearly four years, we're still seeing approximately two new patients a day."
Photo: Seated, left to right Bill Malloy, Jim Bruck, Jim Byrnes, Chet Gorski. Standing, Attorney Warren Schloesser; Jack Dennis, executive director, Wayne Memorial Health Foundation; Jonathan Fritz, PA state representative; Wynter Newman, practice manager, Honesdale VA Outpatient Clinic; David Hoff, CEO, Wayne Memorial Hospital; Phil Sheehan, VFW; Wendell Kay, Wayne County commissioner; James Carbone, commander, Honesdale American Legion; Jeffrey Ryan, MD, primary care physician, Honesdale VA Outpatient Clinic and James Joseph Carbone.