Odd Fellows Donate Bench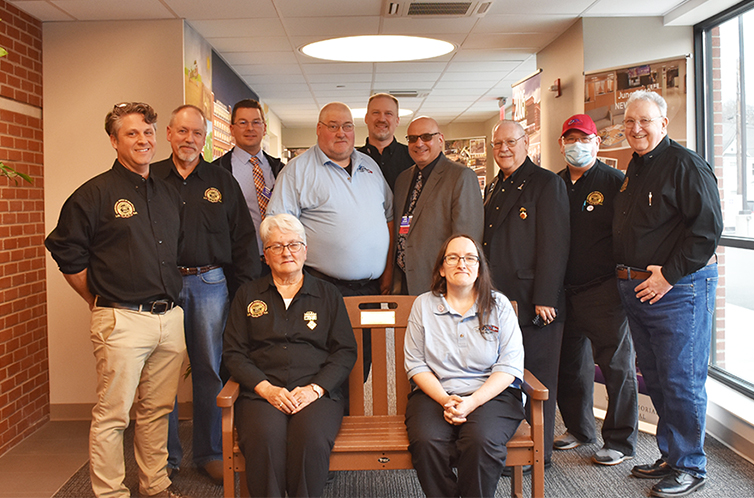 (Honesdale, March 31, 2022)…A new park bench graces the landing outside the main entrance at Wayne Memorial Hospital (WMH) thanks to the Independent Order of Odd Fellows (IOOF) Freedom Lodge #88 of Honesdale. The fraternal order collected over five hundred pounds of soft plastics in the NexTrex recycling program for the eco-friendly outdoor bench donated to WMH.
The local organization is a member of the non-political, non-sectarian, international IOOF that promotes personal and social development. They engage in various fundraisers and collect donations for veterans, scholarships for students, and more. Odd Fellow member and Wayne Memorial CT Scan/Radiology Technologist Doug Buchinski, who helped facilitate the installation, said the bench provides a nice place to take a break, enjoy the fresh air, and a seat for patients waiting to be picked up.
Wayne Memorial thanks IOOF Freedom Lodge #88 and for all you do for the community.
Sitting, l. to r.: Odd Fellows Vice Grand Nadine Hagger, Secretary Jessica Kilmer. Standing: Odd Fellows Forrest Goodenough, Mike Kinzinger; WMH Director Facilities Tim Huber; Odd Fellows Noble Grand Andrew Kilmer, Doug Buchinski/WMH CT technologist; WMH CEO Jim Pettinato; Districts 9/10 Deputy Grand Master Paul Lautenschlager, Odd Fellows James Lautenschlager and Dennis Bushinski.