More than 100 COVID Vaccines Administered at Fair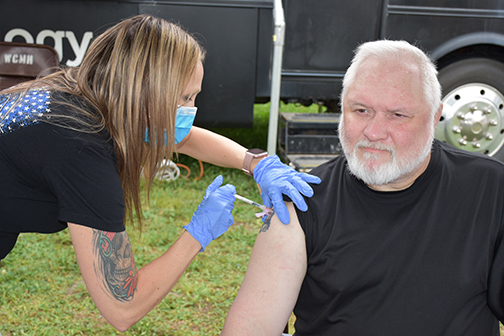 (Honesdale, August 18, 2021)…Staff from Wayne Memorial Hospital and Wayne Memorial Community Health Centers administered 155 COVID-19 vaccines over nine days at the Wayne County Fair from August 6th – 14th.   The no-cost vaccines–  Pfizer-BioNtech, Moderna and Johnson & Johnson—were available from 12noon to 7:30pm.  Doctors and other healthcare providers were also on hand to answer questions. Those who chose to be inoculated gave a variety of reasons for doing so, including a desire to travel, an upcoming wedding, tired of being tested so much and, for some, fear of the highly-contagious Delta variant of the virus.  The vaccines first became available last December for adults. Adolescents became eligible for the Pfizer vaccine earlier this summer. Wayne Memorial officials were not disappointed by the numbers, saying their efforts were a community service. No plans were announced at this time for any more clinics at county fairs, but officials did say they are working on plans to distribute COVID vaccine booster shots, following state and federal guidelines.
Photo:  Kilgallon Ford, Carbondale, gets a COVID-19 vaccine from Amy Rieman, certified medical assistant/Wayne Memorial Community Health Centers, at the Wayne County Fair on August 7, 2021.