Lynn Salvati, FNP-C, Seeing Patients at Pike Family Health Center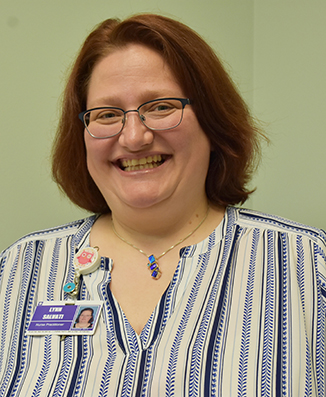 Honesdale, PA (September 18, 2018)—The Pike Family Health Center, part of Wayne Memorial Community Health Centers, (WMCHC) is pleased to announce the appointment of Board-Certified Advance Practice Nurse Practitioner, Lynn Salvati. She joins John Weisenreider, MD, and Eileen Arenson, CRNP, MSN, at the Lords Valley, PA office located on Route 739. Salvati is treating patients age 16 and older.
Salvati has come up through the ranks in healthcare—with a good deal of experience gained at Wayne Memorial. She worked as a Medical Assistant at both the Honesdale and Waymart Family Health Centers before taking a position as an Emergency Department Technician at Wayne Memorial Hospital. The job transition gave her the flexibility to work nights and weekends while pursuing a nursing degree during the day.
"I've always had the desire to better myself through education and training so I can provide the best possible care to the patients I encounter," stated Salvati. "I decided to become a nurse practitioner to play a more integral role in the process of working collaboratively with patients and their families to improve their quality of life."
Salvati holds a Master of Science degree in Nursing, Family Nurse Practitioner Program and a Bachelor of Science degree in Nursing, both from Pennsylvania State University, State College, PA. She was a Registered Nurse in the Emergency Department of Moses Taylor Hospital, Scranton, PA for the past five years.
Reflecting on her choice to join WMCHC as a Nurse Practitioner, Salvati indicated not only the desire to work with patient s that "encompass a broad socioeconomic status," but also "to give back to the community I live in." As a resident of Pike County herself she added, "I enjoy knowing that I can help my neighbors."
Pike Family Health Center is open weekdays with evening hours on Tuesdays as well as limited hours on Saturdays. Patients are seen by appointment; however, walk-ins are welcome. Most private insurances, managed care plans, Medicare, and medical assistance are accepted. The Center offers a sliding-fee scale for those who qualify. To make an appointment with Lynn Salvati, call 570-775-7100.  WMCHC is a federally qualified health center clinically affiliated with Wayne Memorial Health System, Inc.