Local Students Benefit from Nursing Scholarships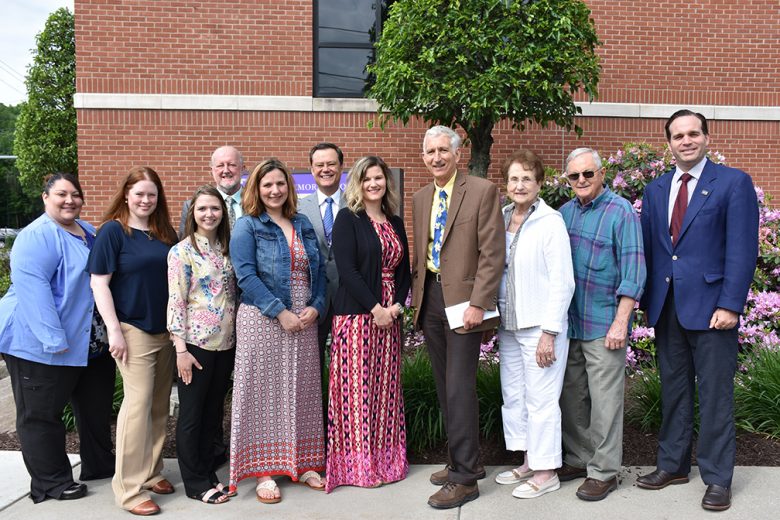 (Honesdale, June 11, 2018)…Two families with ties to Wayne Memorial Hospital and a shared desire to assist individuals pursuing a career in the field of nursing, have helped make the road to higher education a reality for four graduates of the 2018 Luzerne County Community College (LCCC) Nursing Program. Mandy Batalin, Kim Verderber, Jennifer Stitt and Kathryn Nielsen were selected as recipients of scholarship funds in memory of the Patton family and Cathy Collins, RN. All four graduated this May from the LCCC program at Wayne Memorial Hospital.
The Patton Memorial Nursing Scholarship, an endowment in honor of Dr. Howard R. and Marian C. Patton by their children, has benefited nursing students since 2010. The Cathy Collins Scholarship, now in its second year, was created in memory of long-time Wayne Memorial nurse and LCCC nursing instructor who passed away in 2015.
"I know my wife would have been proud," said Jamie Collins, Cathy's husband." I've heard wonderful things about this group from the instructors."
Although this is the final class of the LCCC Nursing Program at Wayne Memorial Hospital, plans to award scholarships from both the Patton family and Collins family to aspiring nurses living in the Wayne Memorial Hospital service area will continue.
"Our parents had great respect for nurses and the countless ways they contribute to healthcare. My siblings and I are so very happy to support future nursing professionals," stated Joanne Patton who spoke to Wayne Memorial by phone. "Education is what transforms lives."
Photo: Front row, left to right, Mary Kate Ruddy, RN, nursing instructor, LCCC Nursing Program; Mandy Batalin; Kim Verderber; Jennifer Stitt; Kathryn Nielsen; Jamie Collins; Mary Theobald; Bill Theobald and Charles Curtin, Honesdale National Bank. Back row: Jack Dennis, executive director, Wayne Memorial Health Foundation and David Hoff, CEO, Wayne Memorial Hospital.