Judy Eisenhauer, RN Promoted to Brand New Position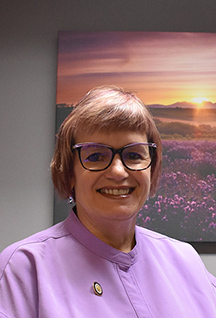 (Honesdale, September 7, 2022)…After managing the Wayne Memorial-Good Shepherd Rehabilitation Center at Wayne Memorial Hospital for 14 years, Judy Eisenhauer, DNP, RN, MSN Ed, CRRN, BA is assuming a new role in a newly-created position, director of Post-Acute  Care for Wayne Memorial Health System.  This new position will focus on coordinating all of the Health System's post-acute services to meet patient needs through a continuum of care.  These services include inpatient rehabilitation, skilled-nursing (Wayne Woodlands Manor), Home Health and Hospice services.
"When a patient is referred to one of these services, this new position will assure patients are navigated, rather than simply referred, from acute to post-acute care," said CEO James Pettinato, BSN, MHSA, CCRN-K.  Noting that transitions of care are delicate times for patients, Pettinato added that, " having an oversight person such as Judy will ultimately help buffer the process and also leverage all our health system resources with the goal of returning a patient to their previous level of function with the least likely chance of being re-admitted for acute services."
Eisenhauer has extensive experience in the post-acute arena. Prior to managing the hospital's inpatient rehabilitation unit, she served as the Assistant Director of Nursing at the Sullivan County Adult Care Center in Monticello for two years.  She has held several teaching positions at Lackawanna College, Sullivan County BOCES and the McCann School of Business and Technology.  At Wayne Memorial, Eisenhauer has chaired several health safety committees, including one on Falls Prevention.
"The work of the Falls Prevention Committee was instrumental in significantly reducing our fall risk potentials and helping to reduce our overall incidence of falls," said Pettinato.
Eisenhauer received her Doctorate in Nursing Leadership from Grand Canyon University in Phoenix, Arizona and both her Masters in Nursing Education and her Bachelor's in the Science of Nursing from Chamberlain University in Oakbrook, Illinois. She also holds a bachelor's degree from Canyon College in Idaho, as well as associate's degrees from both Sullivan County Community College in New York and Keystone College, Pennsylvania. In addition, Eisenhauer has a Health Occupations Teaching Certificate from Oswego University in New York.
 "It's an honor to assume this new position. It really brings all of my experience together for the benefit of our patient population," said Eisenhauer. "I look forward to helping to move Wayne Memorial into a new era of post-acute care."
As the Director of Post-Acute Care, Eisenhauer will have responsibility for both clinical and financial performance goals within each service and will be working closely with each administrator in the respective areas to achieve those goals. The leadership will report directly to her. 
With this announcement, Eisenhauer effectively moves from being a Good Shepherd employee to a Wayne Memorial employee.
"This change in Judy's position comes at a very timely moment," said Pettinato, "as the Good Shepherd Rehabilitation Network is terminating its management agreement with Wayne Memorial to focus on its core operations. This will take effect September 30th. 
"Good Shepherd has been a great partner and we appreciate that they gave us ample notice for this transition.  Wayne Memorial will continue to operate the inpatient rehabilitation unit as we have for many years. Judy will help us recruit a new unit leader."
For more information about Wayne Memorial Hospital and its post-acute care services, visit www.wmh.org
Photo: Judy Eisenhauer, DNP, RN, MSN Ed, CRRN, BA