It's Official: Nadine is a FELLOW!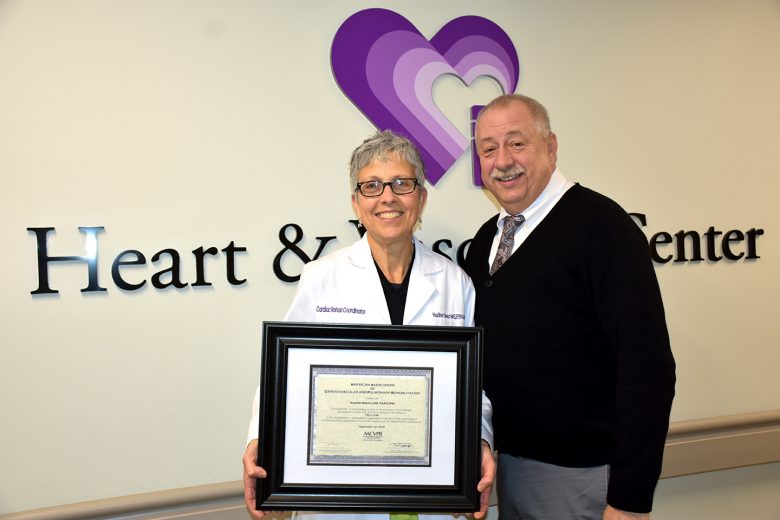 (Honesdale, December 6, 2018)…It was a longtime goal for Nadine Greco, MS, manager of Cardiac Rehabilitation for Wayne Memorial Hospital's Cardiac Rehabilitation Department, and this fall she fulfilled her aspiration. The exercise physiologist officially became a Fellow of the American Association of Cardiovascular and Pulmonary Rehabilitation (AACVPR) during the group's annual conference in Louisville, Kentucky September 5-8. "I was told I was a unanimous choice of the nominating committee," said Greco, "quite an honor in itself!"
Greco, who has been with Wayne Memorial Hospital for more than two decades, has been very involved with the AACVPR at both the state and national levels. She was president of the Tri-State AACVPR from 2014-15.
A resident of Dunmore, Greco earned a bachelor's degree in parks and recreation from East Stroudsburg University, where she later enrolled in the school's cardiac rehabilitation and primary prevention graduate program. She received a second master's degree in foods and nutrition from Marywood University.
Greco, along with several registered nurses, founded the Cardiac Rehabilitation Department and program at Wayne Memorial Hospital in 1993. Since then, more than 2,000 patients recovering from cardiac events or surgery have "graduated" from the 12-week outpatient exercise/education program.  Many continue with a maintenance program afterwards.
"Cardiac rehab is my life's work," says Greco, "and I am truly grateful for being named a fellow by my professional colleagues. It validates all that I have done, which in the end has been for my patients and helping them improve their health and their futures."
Greco's supervisor, James Hockenbury, BS, MHA, director Ancillary Services, noted the significance of cardiac rehabilitation for post-cardiac event patients and applauded Greco for her achievement. "Well done," said Hockenbury, "and well deserved. The Cardia Rehab Department has grown substantially under her supervision. Nadine has been a very positive force for Wayne Memorial and our patients."
Wayne Memorial's Cardiac Rehabilitation Department offers customized exercise and education programs on an outpatient basis Monday through Friday and be reached at (570) 253-8253. For more information, visit www.wmh.org/cardiac-rehabilitation.
Photo: Nadine Greco, MS, FAACVPR and James Hockenbury, BS, MHA, director Ancillary Services at Wayne Memorial Hospital.