Initiative Looking to Boost Colorectal Screening Compliance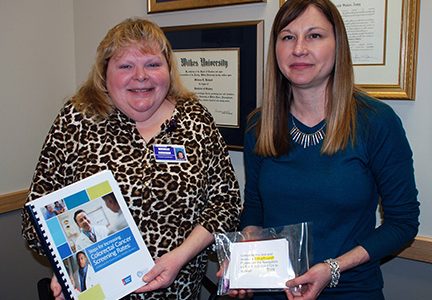 Honesdale, PA (March 10, 2017) –"March is Colorectal Cancer Awareness Month, and it puts a spotlight on the disease which we hope inspires our patients to be screened," said Melissa Rickard, FNP-BC, Honesdale Family Health Center.  Both the Honesdale and the Carbondale Family Health Centers are urging patients to become up-to-date on colorectal cancer screenings. Some patients may also be invited to be part of a special program that awards a $20 gift card once their screening has been completed.
Rickard, who spearheaded the screening emphasis in December of 2016 as part of her graduate work for a doctorate in Nursing from the University of Scranton, wanted to assist patients who experience obstacles to screenings.
"I chose this particular cancer focus because a disparity in colorectal cancer screening exists in rural populations such as those served by WMCHC," said Rickard, "This can lead to a higher incidence of late stage colorectal cancer diagnosis."
The project utilizes two methods of reaching out to patients regarding screening test compliance. Asymptomatic patients between the ages of 50 and 75 are counselled either during a routine office visit by their provider or by a representative of the Northeast Regional Cancer Institute (NRCI) about the importance of scheduling a colonoscopy or taking a fecal immunochemical test (FIT) which tests for hidden blood in the stool.
Based on the situation, some patients schedule colonoscopies or are handed FIT test kits before leaving the physician's office. The FIT is covered by most insurance. Others are given the option to become part of the NRCI's Patient Navigation Program. To date nearly 40 percent of the patients WMCHC has connected with NRCI have enrolled in the navigation program. Those who have enrolled and completed their screening receive the $20 incentive.
"The purpose of my project was to develop evidence-based strategies to reduce barriers to screening such as lack of clinician recommendation, lack of transportation or limited health coverage," said Rickard. "Through the Patient Navigation Program, NRCI works with patients to help them deal with some of these obstacles and that is key."
Rickard's goal to increase colorectal cancer screening adherence at WMCHC is already looking positive. Although distribution of FIT kits and active engagement with NRCI only began last December, discussion of the project prompted WMCHC to encourage its providers and staff to speak to their patients more frequently regarding colorectal cancer screenings earlier on.
According to Michelle Corrigan, RN, wellness and clinical care coordinator at WMCHC, after comparing statistics collected for the Uniform Data System, a standardized reporting system maintained by the Health Resources and Services Administration, "the national average patient adherence for colorectal cancer screening for 2015 was 38.3 percent. WMCHC's 2016 4th quarter data was at 40 percent." Furthermore, WMCHC measured an increase within its own organization as the 2016 colorectal cancer screening rate jumped up to 40 percent from 27.1 percent in 2015.
Photo:  Shown, left to right, holding American Cancer Society literature and a sample of the FIT Kit are Michelle Corrigan, RN, wellness and clinical care coordinator, WMCHC and Melissa Rickard, FNP-BC, certified family nurse practitioner, Honesdale Family Health Center.