Honoring Front-Liners on Nurses Day 2020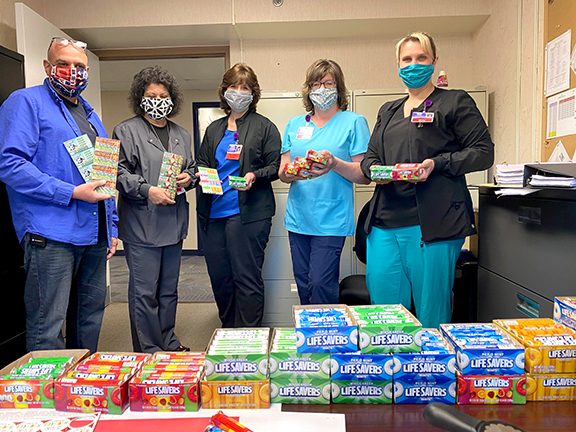 (Honesdale, PA, May 6, 2020)…  "You're a lifesaver! Thank you for all you do."  That's what the pins said that were handed out to nurses throughout Wayne Memorial Hospital on Wednesday, May 6, Nurses Day 2020.  The Nursing Administration team complemented the pins with candy lifesavers and scratch-off lottery tickets. They distributed the tokens to some 340 members of the hospital's nursing department, including the medical secretaries, to show a united front.  Director of Patient Care Services Jim Pettinato, RN, led the effort, noting that nurses are on the front lines every day, treating and saving lives during the COVID crisis and always. Wayne Memorial employs more than 200 registered nurses, nurse anesthetists, nurse practitioners and licensed practical nurses, as well as close to 100 nurse aides. The Wayne Memorial team also salutes the nurses at its skilled nursing facility, Wayne Woodlands Manor and all the RNs, CRNPs, LPNs and nurse-midwives of its affiliate, Wayne Memorial Community Health Centers for all their hard work day-in, day-out! Nurses Day kicks off Nurses Week, which runs until May 12.  Shown, left to right: Pettinato; Michele Churney, RN; Deb Henderson, RN; Chandra Roberts, RN; Nicole Diehl, RN.
More photos can be found on the hospital's Facebook page along with COVID-19 updates. Pictured here: Amy Krempasky, RN/Wound Care.