Honor and Remember with WMH Auxiliary's Love Lites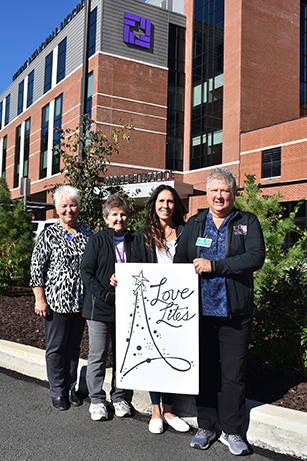 (Honesdale, October 19, 2021)…The annual Love Lites display, a project of the Wayne Memorial Hospital Auxiliary, will light up this year on Monday December 6th at 6:30pm. The public is invited to sponsor lights on trees near Wayne Memorial Hospital's Main Entrance in honor or remembrance of loved ones. The lights are $5.00 each and the names are placed in a Memory Book available in the hospital lobby from early December through the first week of January 2022. The book will also be posted on the hospital's website at www.wmh.org. Coupons can be printed from the website and mailed along with a check payable to WMH Auxiliary. Send it to Kathie Carlson, 33 Tennis Club Circle, Lakeville, Pa. 18438.
Everyone is welcome to the outdoor ceremony which includes a blessing of the Memory Book by a member of the clergy. The brief observance also features appropriate Christmas music performed by members of St. Tikhon's choir and the Honesdale High School chorus along with grab-and-go light refreshments.
Love Lites originated in 1991 as an Auxiliary fundraising project and as a service to the community during the holiday season. By the symbolic lighting on the trees outside Wayne Memorial Hospital for the community to see every day throughout the season, Auxilians say the public is reminded of the love and caring of family and friends.
WMH Auxiliary members l to r:
Joyce Malicky WMH Volunteer Coordinator, Kathie Carlson Auxiliary Secretary & Love Lites Committee, Danielle Hedgelon Love Lites Committee, Diane Popovich Auxiliary President-elect