Honesdale Surgical Welcomes Nurse Practitioner to Staff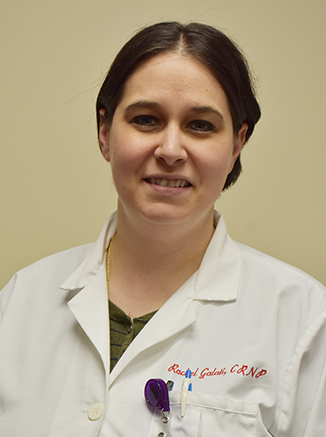 Honesdale, PA (April 24, 2019)—Wayne Memorial Community Health Centers (WMCHC) welcomes Certified Registered Nurse Practitioner Rachel Galati to the staff of Honesdale Surgical Associates. The practice, located at 600 Maple Avenue, Suite 1, offers general and bariatric surgery at Wayne Memorial Hospital.
As a Surgical Nurse Practitioner, Galati is responsible for  pre-and-post-operative patient care. She conducts inpatient rounding as well as performs various inpatient and outpatient procedures. Additionally, she provides wound care evaluation and treatment at Wayne Memorial Hospital's Advanced Wound Care and Hyperbaric Center.
Wayne Memorial Hospital's Medical Staff President Louis D'Oro, MD, FACS, who is also a general surgeon at Honesdale Surgical, is enthusiastic about having Galati as part of his team, "Rachel has over nine years of practical experience in both inpatient and outpatient settings. That versatility makes her an asset in the office as well as the hospital. We are excited to have her associated with us."
Galati earned both her bachelor's and master's degrees in nursing from the University of Scranton with her master's focused on the Family Nurse Practitioner Track. She has worked as a Registered Nurse within the Emergency Department of both Geisinger Wyoming Valley Hospital in Plains, PA and Lehigh Valley Hospital in Allentown, PA. Galati was most recently employed as a Psychiatric Nurse Practitioner for Matthew Berger, MD, in Moosic, PA, a position she held for nearly eight years. Additionally, she is an adjunct faculty member of Wilkes University's PMH-Nurse Practitioner Program.
Galati says she pursued the nurse practitioner position with Honesdale Surgical as a means of expanding her knowledge as a CRNP. Additionally, she embraced the mission of WMCHC, "I was excited to work for a non-profit organization that puts its resources back into the facility," she stated.
Along with Dr. D'Oro, Honesdale Surgical Associates is attended by Lisa Medvetz, MD and Daniel Murphy, MD. The practice accepts most private insurances, medical assistance and offers a sliding-fee scale for those who qualify. Call 570-253-8635 for more information. WMCHC is a clinical affiliate of Wayne Memorial Health System, Inc.