Honesdale Behavioral Health Center Accepting New Patients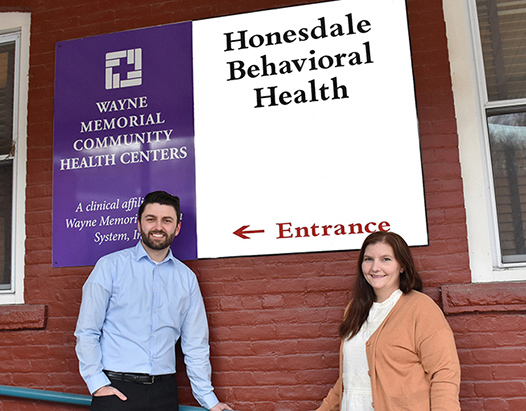 Honesdale, PA (February 15, 2022) … Citing demand for services from the community, Honesdale Behavioral Health Center, part of Wayne Memorial Community Health Centers (WMCHC), has recruited two additional Psychiatric-Mental Health Nurse Practitioners to join the staff at its outpatient facility located at 600 Maple Avenue.
Joseph Ungvarsky, PMHNP, who first began seeing patients at the Honesdale facility in the summer of 2021 and Kathryn Plotkin, PMHNP, whose schedule officially opens on February 28th, are both accepting new patients for evaluation, diagnosis and medical management of mental health disorders.
The need for psychiatric services versus availability of qualified providers has been challenging," stated Michael C. Campbell, MD, FAPA, FAAFP, behavioral health director, WMCHC. "This is the first time in three years we have had the capacity to open our practice to new patients beyond our direct referral sources."
Ungvarsky earned both his Master's and Bachelor's degrees in Nursing from Wilkes University with his Master's having a concentration in Mental Health. He is board certified in Psychiatric Mental Health by the American Nurse Credentialing Center. Prior to joining Honesdale Behavioral Health, he was employed as a Registered Nurse at First Hospital in Kingston, PA. He treats patients age 18 and older who suffer from conditions such as depression, anxiety disorders, bipolar disorder, PTSD, schizophrenia and addiction.
Plotkin also holds a Master of Science in Nursing from Wilkes University's Psychiatric/Mental Health Nurse Practitioner program and is PMHNP board certified. She has over eight years of nursing experience. For the past six years, Plotkin has served as a Registered Nurse at New Story, a private academic licensed school located in Throop, PA for children with autism or behavioral health diagnoses. Plotkin will see adult patients for a range of emotional and mental health disorders at Honesdale Behavioral.
To make an appointment with either Joseph Ungvarsky or Kathryn Plotkin, patients have the choice of being referred by their primary care physician or contacting Honesdale Behavioral Health Center directly by calling 570-253-8219 for self-referral.
WMCHC has been offering outpatient behavioral health services to adults, adolescents and children since 2008 utilizing a multi-disciplinary treatment team approach. The center also provides Medication-Assisted Treatment (MAT) for substance use disorders utilizing FDA-approved medications and counseling.
For information on all of WMCHC services, visit www.wmchc.net or call 570-253-8390.
Photo: Shown left to right, Joseph Ungvarsky, PMHNP and Kathryn Plotkin, PMHNP, Psychiatric-Mental Health Nurse Practitioners who are now taking new patients at the Honesdale Behavioral Health Center.