Heart & Vascular Center 1st Anniversary- You're invited!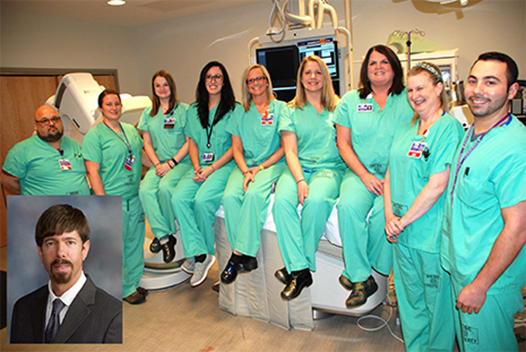 (Honesdale, June 5, 2017)…A celebration to mark the first full year of Wayne Memorial's newest service, the Heart & Vascular Center, will be held on Thursday, June 29th, from 4pm – 6pm.  Everyone is invited, particularly patients and their families who have benefited from the cardiac catheterization procedures in the Center.  The anniversary event will include light refreshments and a chance to "talk heart-to-heart" about your heart health with the Center's Medical Director, Raymond Resnick, MD, FACC, FSCAI, and cardiovascular technologists and registered nurses.
"When we opened in June of 2016, we believed many people in the greater Wayne County area would welcome critical heart services, such as catheterization, close to home," said Dr. Resnick. "What we didn't realize was how much it was needed.  In the last year, we have treated more than 350 patients, far more than we anticipated for that time period."
Dr. Resnick added that about 10% of the patients were suffering heart attacks and immediate treatment was imperative.
The Heart & Vascular Center offers cardiac catheterizations, percutaneous coronary interventions (angioplasty and stenting), defibrillator and pacemaker placement and more. Cardiologist Matthew Kuber, MD, FACC and interventional cardiologist Samir Pancholy, MD, FACC, FSCAI also offer cardiology procedures in the lab.  Dr. Pancholy recently inserted an automatic implantable cardioverter-defibrillator (AICD) in a patient. This device is designed to monitor the heartbeat and provide life-saving therapy for an abnormal rhythm if needed.
"We hope to continue making progress in our Center," said Dr. Resnick, "and to offer patients a full spectrum of cardiac care."  Coming soon: the cath lab will provide a diagnostic peripheral program intended for patients with claudication or peripheral vascular disease.
General cardiology procedures, including stress testing (exercise and pharmacologic) and holter monitoring, as well as cardiac rehabilitation are also available at Wayne Memorial Hospital.
To RSVP, call 570.253.8631 or email champeau@wmh.org. For more information about the cath lab, visit www.wmh.
Photo: Staff of Wayne Memorial Heart & Vascular Center left to right: Frank Reid, RN, Cardiac Catheterization Lab Coordinator; Chelsea LaTourette RN; Alli McIntyre BS, RT(R); Stephanie Jugus BS, RT(R); Tara Olver, RN; Holly Miszler, RN; Sandra Skrobiszewski RT(R), RCIS, Lead Cardiovascular Care Coordinator; Colleen Shaffer RN; Rich Evans BS RT(R). Inset: Medical Director Raymond Resnick, MD, FACC, FSCAI.