Free COVID Test Kits from Wayne Memorial Community Health Centers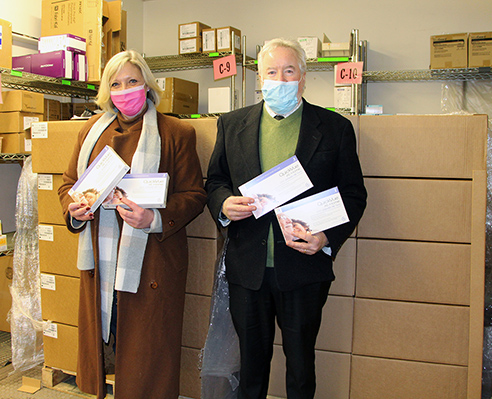 (Honesdale, January 11, 2022) … The first supply of 10,000 COVID-19 self-test kits offered at no cost to patients and community members across the Wayne Memorial Community Health Centers (WMCHC) service area are now available to the public. The rapid antigen self-collection kits, the Quidel QuickVue At-Home www.quickvueathome.com are being supplied to WMCHC through the Health Resources and Services Administration (HRSA).
All WMCHC's sites—primary care, pediatric, women's health, urgent care, and dental–located throughout Wayne and Pike Counties and the greater Carbondale and Forest City areas have a supply of kits which may be picked up at any office during regular hours. Masks are required to enter all facilities. Visit www.wmchc.net for a list of locations.
Each FDA-authorized kit for age 2 to adult contains two tests for self-collection via nasal swabs. Adult collection is recommended for children 2 through 13. It is important to keep in mind that antigen tests are not as sensitive to the Omicron variant and false negatives may occur. Anyone receiving a positive result should contact their medical provider for follow up.
According to WMCHC's Development Manager Erica Brown no registration is required and individuals do not have to be a health center patient to receive a kit. Test kits will be available at the front desk of each office with a limit of two per person, per week during this initial rollout. Brown added that WMCHC's overall allotment is for 67,500 kits and new shipments will arrive weekly. "The quantity we have been authorized to order will be adequate to cover our entire service area. If families require more than two, they can return the following week once supplies have been replenished."
In addition to stocking its offices, WMCHC officials have also reached out to their community partners including Wayne County Commissioners, Pike County Commissioners, Forest City Office of the Mayor, Carbondale YMCA, as well as Wayne and Pike County Area Agency on Aging offices for assistance in distribution.
"The goals of this program are for all those at risk to have access to self-testing supplies and to support greater COVID-19 mitigation efforts," stated Frederick Jackson, executive director, WMCHC. "Offering free kits for use in the privacy of an individual's home will eliminate barriers to timely testing and ultimately keep our community safer."
WMCHC is a Federally Qualified Health Center clinically affiliated with Wayne Memorial Health System, Inc. For more information on all of our services, visit www.wmchc.net or call 570-253-8390.
PHOTO: Shown left to right are WMCHC's Development Manager Erica Brown and Executive Director Frederick Jackson among pallets of COVID-19 self-test kits prepared for distribution to the public through all of the organization's community health center sites.