First Patient Life-flighted to Wayne Memorial for Lifesaving Treatment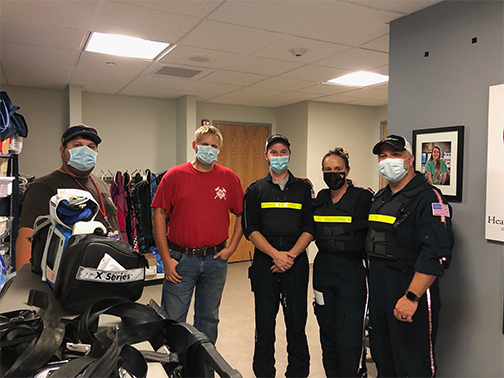 (Honesdale, August 29, 2022)… For the first time since Wayne Memorial Hospital constructed a helipad in 2016, a patient was flown to the hospital's helipad for life-saving treatment at Wayne Memorial. All other flights have been to transfer patients out from Wayne Memorial to a higher level of care. Wayne Memorial CEO James Pettinato, BSN, MHSA, CCRN-K, confirmed that a cardiac patient in critical condition at Garnet Health Medical Center – Catskills' Grover M. Hermann Hospital just outside Callicoon, New York State, was transported via LifeNet, a New York-based medical helicopter evacuation service to Wayne Memorial's helipad on Route 191 in Honesdale at about 12noon today.  The patient and the flight team were then whisked to the hospital less than a mile away by a White Mills ambulance crew. Pettinato gave no further details about the patient except to say, "Dr. Bradley Serwer, one of our interventional cardiologists, performed a catheterization procedure on the patient in our Heart & Vascular Center.
"We are thankful to the Garnet-Grover Herman Hospital medical team and to LifeNet and White Mills Ambulance, who ultimately brought the patient to us expeditiously and safely."
Photo:  Flight crew from LifeNet New York that escorted the first patient ever life-flighted to Wayne Memorial Hospital's helipad for cardiac treatment at the hospital. Left to right: Stephen Parenti, First Responder Driver, Andrew Moss, EMT; Mike Nuzzi, pilot; Tricia Haile, flight nurse; Aaron Peck, flight medic.