Dr. Hoon Yoo to Retire after 40 Years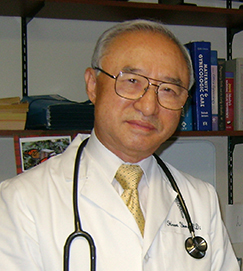 Honesdale, PA (March 8, 2017) – After providing women's health services to Wayne and Pike Counties for 40 years, Hoon Yoo, MD, board certified obstetrician/gynecologist, announced  he will retire from his practice, the Women's Health Center, this April. Dr. Yoo was the first obstetrician/gynecologist to join the medical staff of Wayne Memorial Hospital (WMH) and is credited with laying the foundation of what is now the hospital's New Beginnings Birthing Suites.
"The people of Wayne and Pike Counties didn't know the services of an OB/GYN.  I was a pioneer," stated Dr. Yoo reflecting upon the beginning of his career at the Honesdale facility where he has practiced exclusively since arriving in 1977.
"New Beginnings is a thriving birthing unit, thanks in large part to Dr. Yoo," said Wayne Memorial CEO David Hoff. "Wayne Memorial is very grateful to him. In addition, Dr. Yoo has always been a true pillar in our hospital community of patience, skill and compassion for his patients."
New Beginnings Birthing Suites now facilitates over 450 births annually. In December of 2012, Dr. Yoo officially stopped delivering babies but continued to practice gynecology. Even Dr. Yoo isn't certain just how many babies he delivered. However, his educated guess is somewhere between 3,000 and 4,000.
His philosophy throughout his 40 years came from his father who was also a physician, Do Sun Yoo, MD, a general surgeon in Korea: "to see the patient each time for the first time.  It doesn't matter if you've followed her for 20 years. When you perform a procedure on that person, you realize the uniqueness of that procedure for that person," he explained. "That is how to achieve 200 percent concentration every time."
As he prepares for retirement, Dr. Yoo modestly thanks "the people here who have worked closest with me and helped me," referring to his office co-workers, New Beginnings staff and WMH Operating Room staff. "Fifty percent of my whole life, I was here.  I will miss those who have been around me. Without them where would I be?"
The feeling is mutual for many of the Women's Health Center and WMH staff including Joyce Bannon, a registered nurse at New Beginnings who worked alongside Dr. Yoo for 20 years, "he was monumental in my obstetrics experience.  He taught me everything I know about OB," she said. "He always treated his patients with great respect."  Bannon not only worked with Dr. Yoo, but was also his patient at one point in time.  She remembers Dr. Yoo telling her prior to her procedure that he prays for all of his patients before surgery that his skills will be on- point.  Bannon says she found that "endearing" and "it just speaks to the type of man is."
"It has been a pleasure working with Dr. Yoo," said Frederick Jackson, executive director of Wayne Memorial Community Health Centers, which includes all the Women's Health centers. "He is a physician dedicated to his craft who makes every effort to truly connect with his patients and give them the best care possible. He is constantly upgrading his skills and education.  Dr. Yoo is what we refer to as a legacy physician for our community.  His contribution can be measured by the generations he helped bring into the world.  He will be missed."
Since stepping down from the obstetrics portion of his practice, Dr. Yoo admits he has a little more time on his hands.  He says he was up "day and night up with babies" and had virtually no personal life. He said a 24-hour commitment was his work ethic and at times the pace could be quite stressful.  However, he has no regrets. "I liked the people. They didn't feel well and I wanted to help them.  One smile (from the patient) was all it took to take care of my stress."
So what's next for this dedicated physician as he enters a new phase of his life? On a short-term basis and in order to pursue something non-medical, Dr. Yoo says, "I have always wanted to learn to play the drum but never had time. I want to take lessons."
As for his long-term goals, Dr. Yoo, is still pondering the possibilities, "when I wake up in the morning, I will have 24 hours in front of me in a totally different chapter in my life. I used to be valuable as a physician. Now, how will I make my time valuable?"
"I hope when I die people will say Dr. Yoo was a needed man.  Not just as a physician, but also after I've retired," Dr. Yoo added.  It suffices to say that there are generations of women from Wayne and Pike Counties who came to Dr. Yoo to share the joy of the birth of their children, pull from his strength during difficult diagnoses and listened to his well-meaning "words of wisdom" who have no question that his legacy moving forward will certainly be that of an extremely valuable man.
Photo:  Hoon Yoo, MD, board certified obstetrician/gynecologist.