Celebrating National Pulmonary Rehabilitation Week at WMH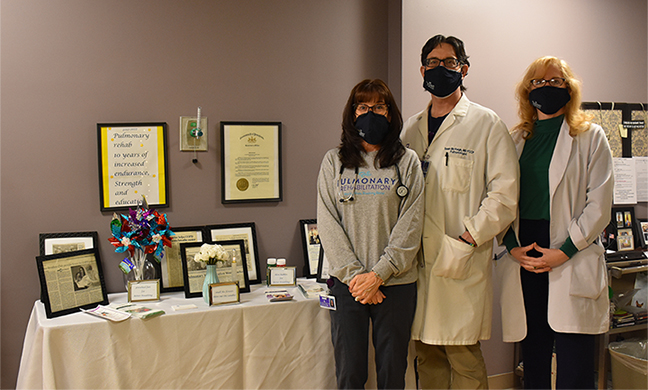 (Honesdale, March 14, 2022)…This week, March 13-19 2022, is National Pulmonary Rehabilitation Week. The annual observance highlights how important pulmonary rehab programs are to the health and well-being of lung disease patients. The Pulmonary Rehabilitation Center at Wayne Memorial Hospital is celebrating ten years of working with patients to acquire increased endurance, strength, and a better quality of life. Rehabilitation Therapist and Clinical Coordinator Valerie Stout RT is also marking an anniversary of her own, 30 years as a respiratory therapist.
Stout brings her extensive experience to the Pulmonary Rehab program at Wayne Memorial, a multidisciplinary program where patients attend 36 sessions of exercise tailored to each individual's abilities and level of shortness of breath. Each patient is also educated on proper oxygen use and medication during their time in the program. The main goal of Pulmonary Rehab is sustainability or increasing the patient's endurance to take on and complete daily tasks that can be strenuous to someone living with shortness of breath.
Group, l. to r.: Valerie Stout RT, Pulmonologist; Chief of Medical Staff, Sean McVeigh MD, FCCP, FACP; and Tina Cobb CRNP.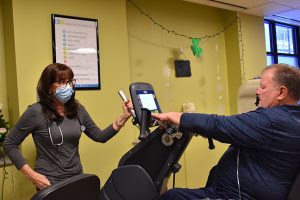 RT Valerie Stout with James Slowinski, Lakewood.