"Call of the Wild" is Theme of 77th Auxiliary Mistletoe Ball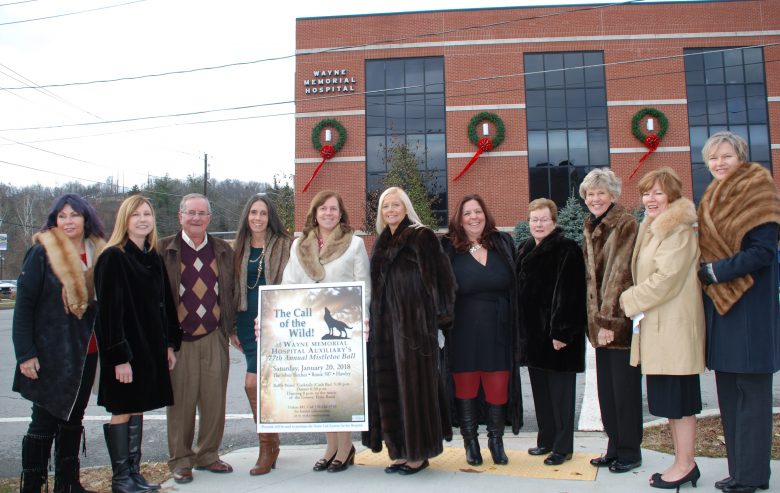 (Honesdale, December 5, 2017)…. "Wear your faux fur, your wildest dancing shoes and let your inner 'animal' roar!" says Nancy Peck Moro, co-chair with Danielle Hedgelon of Wayne Memorial Hospital Auxiliary's 77th annual Mistletoe Ball.  The dinner dance event takes place on Saturday, January 20th, at Silver Birches in Tafton—and you're invited!
"It's such a great time," adds Moro, "a way to continue enjoying the holiday season and at the same time celebrate the end of all the shopping and cooking. Come on out and support your community hospital."
The Mistletoe Ball includes live music and dancing to the band, Groove Train, and a "fabulous basket raffle" with donations from many local vendors, including Woodloch Spa, Velvet Maple, Black & Brass Coffee, Irving Cliff Brewery, Apple Day Spa and the Wayne Hotel.
Proceeds from the Mistletoe will go towards the purchase of a new, state-of-the-art nurse call system for the new addition currently under construction at the hospital. The call system will have "intelligent call routing," according to hospital administrators, enhancing direct patient-staff communications and eliminating wasted time and effort.
With more than 200 members, the Wayne Memorial Hospital Auxiliary is one of the strongest in the state of Pennsylvania. Anyone can join, says Moro, adding, "Come to the Mistletoe Ball and find out how much fun we can be while helping our community hospital at the same time."
Tickets are $85 per person. Call (570) 226-9750 to reserve your spot. Visit wmh.org to find out more about the WMH Auxiliary.
Mistletoe Committee, left to right: Alice Fino-Ewonishon; Melissa Rickard; Gary Mesko; Danielle Hedgelon; Marianne McConeghy; Nancy Moro; Rosemarie Corigliano; Joan Buehl; Martha Wilson; Carol Sturm; Barbara Cuffe.