"Baby Steps" Library Program Helps At-Risk Moms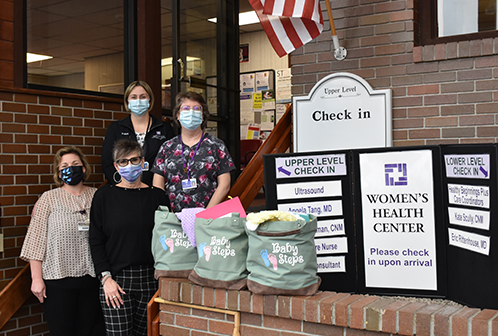 Photo at Women's Health Center, Honesdale, lower level: Nicole Hartung, LSW (left) and Betty Lawson. Top: Kara Poremba, RN and Geri Buckwalter, RN.
(Honesdale, April 14, 2022)…One good deed leads to another! After finding out about a Wayne Memorial healthcare team connecting addicted moms and babies to helpful services, Betty Lawson, Wayne County Children's Librarian, reached out to offer another beneficial service, this one to encourage bonding and early literacy.
Miss Betty, as she's fondly known, created "Baby Steps," a colorful tote bag of gifts,  coupons, board books and information flyers such as "1000 Books before Kindergarten."
The Wayne Memorial team of social workers from the hospital and providers at Women's Health Care (WHC), part of Wayne Memorial Community Health Centers, agreed to collaborate with Miss Betty on distribution.
Calling "Baby Steps" a generous and purposeful alliance, Women's Health Practice Manager Kara Poremba RN, stated, "We really appreciate what Miss Betty is offering."
The Wayne Memorial team connects women with agencies and programs to help them de-toxify, maintain self-restraint, and care for their babies. The team's success has been rewarded with a state grant for the past two years.
The Baby Steps tote, which also includes educational toys, t-shirts for mom and baby and handmade blankets was funded by a United Way grant and supplemented with generous community donations.
"When we asked, the response was tremendous," said Miss Betty, "Several women hand made all the baby blankets, another made these adorable tags. The artwork on the bag and shirts was created by the graphic designer at Platform Industries in Honesdale. Highlights for Children donated magazines and the magnets 'portray a perfect image.' They say 'Your baby's brain has as many brain cells as there are stars in the Milky Way.'"
Creating Baby Steps was a natural extension of the library and Miss Betty's personal commitment. "Too often, struggling young parents feel judged and dismissed by society. They think no one believes they can succeed," she said. "Research shows positive outcomes stem from strong relationships that celebrate and empower. Libraries are already committed to lifelong learning and early literacy is our super power!"
To find out more about library services, visit Wayne Library Alliance – Home (waynelibraries.org). To learn more about WHC services, visit Wayne Memorial Community Health Centers | Wayne Memorial Hospital (wmh.org).