After a Stroke, Help is Available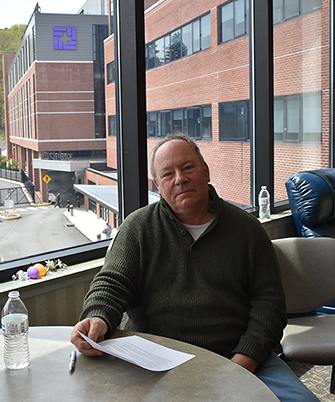 (Honesdale, May 17, 2022)….Phil Dux, age 62 , survived a hemorrhagic stroke in 2013, even after a week in a medically-induced coma. But the Hawley resident found recovery very bleak—at first.  He had limited movement on one entire side of his body. He couldn't return to work. Life wasn't the same.  Dux admits to depression and anger at the time.
"I wanted some assurance life was worth living," he says.
His wife, Therese, and the Stroke Support group at the Wayne Memorial-Good Shepherd Inpatient Rehabilitation Center answered his prayers.
"Support and encouraging people make all the difference," Phil explains. "It's about physical recovery but also mental, emotional and cognitive ability."
May is Stroke Awareness Month, an annual observance where healthcare providers – and stroke survivors—work to advocate for stroke education, prevention and recovery support.
Wayne Memorial Hospital is a Certified Primary Stroke Center with a Stroke alert Team trained to evaluate a potential stroke patient. Responding to warning signs right away can make a drastic difference in your outcome. Think F.A.S.T.: Face Drooping, Arm Weakness, Speech Difficulty, Time to call 911.
Wayne Memorial also offers a fast turnaround for a CT scan of a potential stroke patient's brain and round-the-clock access to a board-certified neurologist via tele-conferencing.  For ischemic strokes, the Emergency Department can also administer the only FDA-approved clot busting drug, tPA (tissue plasminogen activator).
Survivors like Dux say, however, there needs to be more for post-stroke care. "It's a brain injury," Phil asserts, "not everyone recovers in the same way or returns to the way they were pre-stroke."
His wife, Therese pressed for every type of rehabilitation therapy she could find, and together they discovered the Wayne Memorial-Good Shepherd Stroke Support Group.
"My story of survival began at Wayne Memorial," says Dux, whose initial care called for transfer to another facility, "and I want to share my experience of strength and hope to benefit others."  He calls the positive stimulation of the support group a valuable asset in recovery.
The Stroke Support Group meets monthly at the hospital. Facilitator Janene Dubois says it's an opportunity for learning, socializing, and sharing encouragement with other survivors and caregivers. Find out more at www.wmh.org.