A First at WMH to Save a Leg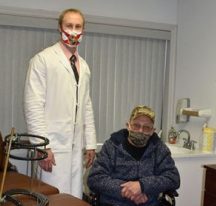 (Honesdale, January 27, 2022)… Herbert Baker is banking on a titanium implant in his leg to  help him walk again. The 63-year-old Shohola man underwent two surgeries at Wayne Memorial Hospital to battle a raging infection in his distal tibia—part of the bony structure of his ankle. Glenn Woodley, DPM, FACFAS, DABPM, FASPS, FACPM, who performed this first-ever 3D-custom implant surgery at Wayne Memorial said it was Baker's "best hope to keep his leg and have it be functional again."
Sometime after Baker broke his left leg and ankle in the 1990s, a wound developed and an insidious infection set in. The bone began to deteriorate and over the years, it got progressively worse. Antibiotics helped, but not enough.
In October of 2021, Baker and Dr. Woodley agreed to move ahead with the implant. The alternatives were to prescribe another intense course of antibiotics, which may or may not have worked, or amputate the leg below the knee.
During the first surgery in October, Dr. Woodley removed all the infected bone, inserted antibiotic "spacers" to clear out any remaining infection and placed a large metal "fixator" around Baker's leg to stabilize it in place of the missing bone. Then, Baker had to wait two months to be certain the infection had been vanquished and for the implant to be produced. CT scans of his leg and both ankles were performed to be assured of an anatomical match.
In December, Baker's fixator was removed and, back in the OR at Wayne Memorial, Dr. Woodley placed the implant. The tibia, which is the long bone of the lower leg, below the knee, has three parts: the proximal, shaft and distal part. Baker's distal tibia was replaced by the implant.
"The implant is very light-weight and porous enough to allow for bony ingrowth," said Dr. Woodley, "which will help stabilize the leg further."
Baker, who makes his living as a mechanic for a garbage business, still cannot put weight on his affected leg. He needed to wait 10-to-12 weeks post-surgery, which will be sometime in March.
"I am really looking forward to that day," said Baker, "it's been a long haul."
Dr. Woodley opened his practice last year at 3355 Lake Ariel Highway in Honesdale. He can be reached at (570) 228-2990.
Photo:  Dr. Glenn Woodley, standing, with his implant patient Herbert Baker, Shohola. Fixator is to the left on the exam table.
Photo: An X-ray of the implant in Baker's ankle.