Physician Specialty Clinic (Honesdale Pulmonary)
HONESDALE PULMONARY (NOW – Physician Specialty Clinic)
Effective January 18, 2021 the Honesdale Pulmonary & Sleep Medicine office is located on the fourth floor of Wayne Memorial Hospital and renamed the Wayne Memorial Physician Specialty Clinic.  Way-finding signage has been posted throughout the hospital. The map below gives directions from both the Main and Emergency Department Entrances. Do not hesitate to call the office at 570-253-8643 with questions regarding the relocation.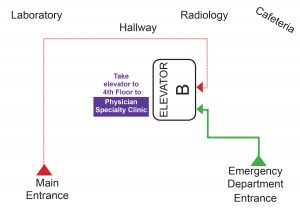 HONESDALE PULMONARY AND SLEEP MEDICINE
A WAYNE MEMORIAL HOSPITAL OUTPATIENT CLINIC*
Wayne Memorial Hospital
601 Park Street, 4th Floor
Honesdale, PA 18431
PH: 570-253-8643
We offer outpatient pulmonary services and treatment of sleep disorders. Our staff consists of a board-certified Pulmonologist with specialized training as a Sleep Medicine Specialist, as well as a board-certified Family Nurse Practitioner.
Normal office hours are Monday through Friday with some evening appointments available.
In addition to management of acute and chronic respiratory illnesses and sleep disorders, Honesdale Pulmonology offers:
Interpretation of pulmonary function testing
Interpretation and follow up of polysomnograms
XOLAIR® (omalizumab) Clinic
Our board-certified Pulmonologist also oversees respiratory services, pulmonary rehabilitation and the Sleep Disorders Center at Wayne Memorial Hospital.
After Hours Contact
For after hour emergencies, please contact your primary care physician.
Financial Assistance
Financial Assistance may be available for patients who quality. As a *Wayne Memorial Hospital Outpatient Clinic, this office offers the Wayne Memorial Hospital Financial Aid Program. Please click here for more information.
Our Providers

Click on provider's name for biographical information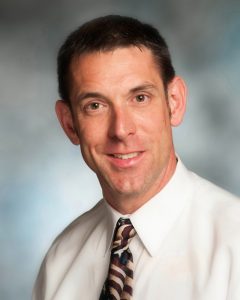 Sean McVeigh, MD, FCCP, FACP
Board Certified, Internal Medicine & Pulmonary Medicine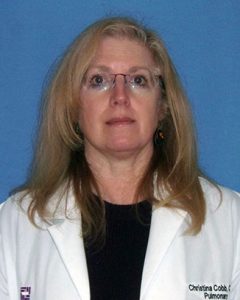 Christina "Tina" Cobb, FNP-C
Certified Family Nurse Practitioner