Hamlin Family Health Center Adds Nurse Practitioner to Staff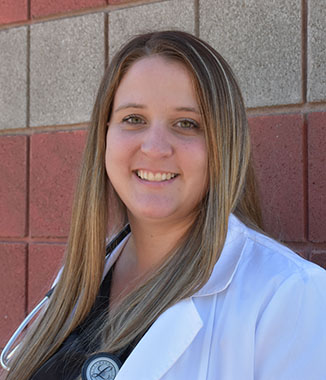 Honesdale, PA (July 2, 2020) — Certified Family Nurse Practitioner Jerrica Sheridan, DNP, FNP-C, became Hamlin Family Health Center's newest medical provider on June 8th. The Center, which offers primary and walk-in care at 543 Easton Turnpike seven days a week, is part of Wayne Memorial Community Health Centers (WMCHC).  Sheridan's position as a fourth dedicated Walk-in Provider complements the current staff of physicians and advanced practitioners and is part of WMCHC's 2020 growth plans which include a 5,000 square foot expansion due for completion in late summer.
Sheridan comes to the Hamlin office with more than seven years of experience offering acute and chronic health management to patients of all ages as a Family Nurse Practitioner (FNP). Prior to earning her Master's degree in Nursing, she worked as a Registered Nurse (RN) at Geisinger CMC's Emergency Department in Scranton, PA. Her work history also includes serving as a travel RN with hospital-based assignments in Texas, California and Pennsylvania. Sheridan has been an Adjunct Faculty member for RN and FNP programs at Purdue University Global; South University, Virginia Beach, VA; Tidewater Community College, Portsmouth, VA and Marywood University.
"Jerrica's ability to quickly adjust to change and build rapport with patients based on her previous work and life experience makes her a valuable addition to our team," stated Janice McConnell, office manager, Hamlin Family Health Center.
Sheridan earned a Doctor of Nursing Practice degree from Purdue Global University and a Master of Science in Nursing as a Family Nurse Practitioner from the University of Scranton. She received her bachelor's degree in nursing from Clarion University of Pennsylvania.
Citing her experience in family practice, Sheridan says her new role at Hamlin has been a fairly easy transition and one she feels will benefit those she treats, "I have found that my experiences in a primary care setting allow me to see more into the patient's long term health even when they are here just for an acute complaint."
The Center is currently promoting Same-day Sick appointments for its established patients. Individuals feeling ill are encouraged to "call ahead" Monday through Saturday to be seen the same day by a provider. The most convenient appointment available that day will be offered. McConnell noted with the addition of Sheridan to the staff, "We plan to have two providers working Monday through Friday when we experience our highest patient volumes."
In addition to primary and walk-in care, outpatient services are also provided by Wayne Memorial Hospital at the same site—routine imaging daily and laboratory Monday through Saturday. No appointment needed. Ultrasound and Women's Health services are by appointment only. For more information and hours of operation, call 570-689-9965.