Hamlin Family Health Center Adds Nurse Practitioner to Staff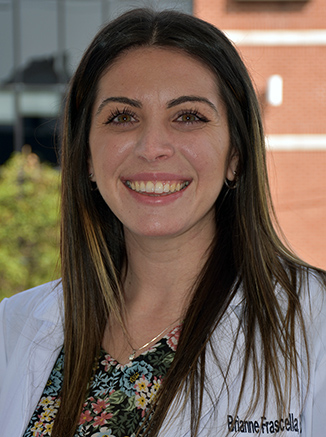 Honesdale, PA (July 19, 2021) — Brianne Frascella, FNP-C, a certified family nurse practitioner who joined the Hamlin Family Health Center in May of 2021, is accepting new primary care patients of all ages. Appointments may be made by calling 570-689-9965. The Hamlin Family Health Center provides primary and walk-in care at 543 Easton Turnpike in Lake Ariel and is part of Wayne Memorial Community Health Centers (WMCHC).
Frascella holds a Master of Science degree in nursing as a family nurse practitioner from Chamberlin College of Nursing, Downers Grove, IL and a Bachelor of Science degree in nursing from Wilkes University, Wilkes-Barre, PA. Prior to joining WMCHC, she worked as a Pediatric Home Health RN for Bayada Pediatrics and an ICU RN at Geisinger Wyoming Valley Hospital, Wilkes-Barre, PA
Frascella says her desire to transition from urban ICU to a rural family medicine setting was partly due to an outstanding student experience at Hamlin Family Health Center while studying to become an FNP, "I saw how well patients were treated here," she stated. "It made me really fall in love with family practice."
As a primary care provider, Frascella, sees patients for preventive, chronic and acute care. Having patients and their families identify with her as an essential member of their medical home is something she looks forward to, "I want patients to always feel comfortable to discuss their overall health needs with me," she stated. "My goal is to treat people as a whole – not to just look at a specific illness."
In addition to primary and walk-in care, routine x-ray and laboratory are also offered at the Hamlin Family Health Center through Wayne Memorial Hospital No appointment is needed, however, please visit our website for hours of operation. Ultrasound and Women's Health services at the site are available by appointment only. Please visit www.wmh.org for more information.
Photo:  Brianne Frascella, FNP-C