First Baby of Dairy Month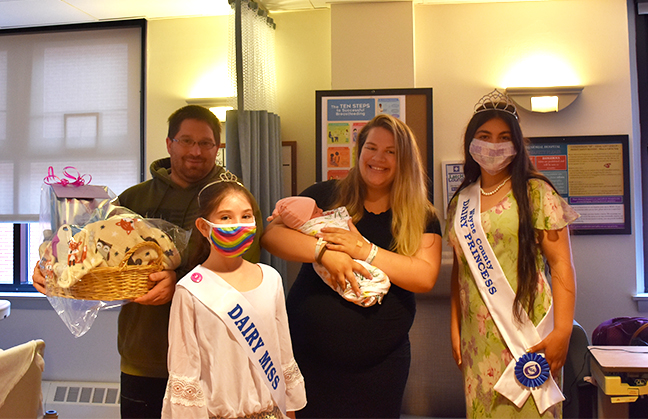 (Honesdale, June 02, 2022)…Little Adelin Rhea Hendrickson was welcomed into the world at Wayne Memorial Hospital as the first baby born in June, National Dairy Month. The little bundle of joy received a basket full of dairy products and baby items from Wayne County Dairy Princess Elektra Kehagias, assisted by Dairy Miss Zoey Tyler. They greeted Adelin with her parents Katelin Dennis and Kevin Hendrickson to promote nutrient rich dairy foods and thank all the hard working dairy farmers. Sweet baby Adelin was born at 12:46 a.m. on June 1st at Wayne Memorial Hospital's New Beginnings Birthing Suites and the Greentown family was happy to receive the gift basket with so much to enjoy.
Pennsylvania ranks seventh nationally in total milk production and, 99 percent of all dairy farms here are family owned. The industry supports 52,000 jobs and contributes $14.7 billion to the state's economy.
Photo l to r: Kevin Hendrickson, Zoey Tyler, Katelin Dennis holding Adelin, and Elektra Kehagias